NBA's Clippers enjoy Hawaii history, culture
The NBA's Los Angeles Clippers are in Hawaii for training camp and a series of preseason games against the Toronto Raptors on Sunday and Tuesday. While in paradise the team is making sure to absorb as much Hawaiian culture and history as possible in hopes to translate the lessons learned into a more open locker room where constructive conversations are encouraged.
Wednesday night head coach Doc Rivers took his team to Pearl Harbor to visit with military personnel and gain an appreciation for the veterans of America. By mere coincidence, NBA Commissioner Adam Silver came out the following morning saying that he continues to expect players to stand for the national anthem.
Rivers and players on the Clippers thought that the Pearl Harbor experience created great dialogue in the locker room and helped share political opinions amongst teammates in a positive way.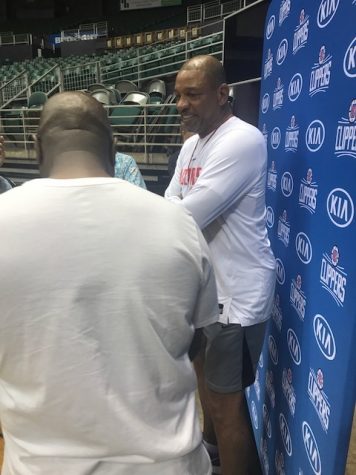 "The great part about our country is there is no one view, and I thought that was great," Rivers said during practice on Thursday. "Several military guys said they would never protest the flag. Some said they would. What I love about our military, they understand the politics, but they don't get involved in it. Their job is to protect and serve, and I thought that was a really great message to our guys."
Clippers forward Marshall Plumlee, who serves in the National Guard during the offseason, said he supported the protests but would not be participating in them that way.
"I completely respect anyone's choice to peacefully protest," he said. "Me personally I'd stand and put my hand over my heart because that's what I believe in. I can't force you to believe in what I believe in."
Clippers center Deandre Jordan has been to Hawaii before for vacation but believed that experiencing the history and learning the stories were an important part of this training camp.
"It really stood out to me, the brotherhood part of it," he said. "The guys who did survive, they told everyone when they passed away [that] they wanted to have their ashes buried in the bottom of the ship where their brothers laid to rest. That was really cool. That was some brotherhood of you cant break us apart type and that was good to see."
In addition to the trip to Pearl Harbor, the team and coaching staff have also gone Hawaiian outrigger canoeing. The team will participate in the FAN FEST on Saturday at the Hawaii Convention Center for free which gives fans the opportunity to meet their favorite players. Doors open at 11: 00 a.m. and close at 5:00 p.m.
Los Angeles will play Toronto at the Stan Sheriff Center on the University of Hawaii campus. Tipoff is Sunday at 4 p.m. and 7 p.m. on Tuesday.