Kuany Wraps Up Stellar 4-Year Career
As Saturday quickly approaches, senior Kuany Kuany is preparing for his last home game in the McCabe Gym.
The 6-foot-7 guard from Melbourne, Australia has played on the men's basketball team at Chaminade for all four years of his collegiate eligibility. Kuany has been one of the most consistent contributors in the Silverswords starting lineup ever since his freshman year, and he will leave CUH in the top three in both points and rebounds.
His four-year success surprised even him.
"I just expected to give it my all and my best in every practice and game I played in but it is a honor to be up there," he said.
Going into the regular-season finale against Hawaii Pacific University on Saturday, Kuany is fourth in Chaminade history in points (1,555) and third in rebounds (855). (He is just three points behind No. 3 in scoring.)
Coach Eric Bovaird saw Kuany's potential to be a star from the moment he saw his film. When it comes to NCAA offers Chaminade was the only one on the table for Kuany Kuany.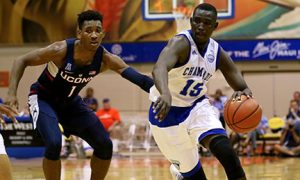 Every year since he arrived in Honolulu, he has been an impact player for the Silverswords. Kuany didn't start the first five games, but ever since he's been in the starting lineup to help Chaminade compete for a PacWest Conference championship.
"He impacted in so many ways both on and off the court," Bovaird said. "You always know what you are going to get from him. You're going to get great effort being a versatile player that he is he can guard multiple positions and incredibly coachable."
Kuany is a versatile player who can stretch the floor with his shooting but also can take you off the dribble and has no problem with posting smaller defenders, giving him a similar game to NBA player Loul Deng.
Freshman year he averaged 14 points per game and led the team in rebounding where he set the school record with 22 rebounds against Azusa Pacific while also earning six PacWest Conference weekly honors (four Freshman of the Week and two Defensive Player of the Week).
Going into his sophomore Kuany, wanted to be better than he was last season that is something he did by being name to PacWest All-Third team averaging 15.3 points a game but falling just short of the PacWest championship.
Entering his junior it was finally his time to show what he really can showcase. Being the primary focus of opposing teams, Kuany led the Silverswords with 16.5 ppg and 9.2 rpg a game, and being names to the Pacific West Conference Second Team and Academic All-PacWest honor roll and was the team's Most Outstanding Player and Chaminade's Male Student-Athlete of the Year but once again falling one game short of the PacWest tournament.
Kuany's senior year is winding up his numbers have falling just a bit but he is still is managing double figures in points (11.5) and second on the team in rebounding (6.8).
Chaminade (17-9 overall, 13-6 PacWest) has already clinched the fourth seed to the PacWest Tournament, to be held next week in Irvine, Calif. The Swords have not been in the postseason tournament since 2014, when they ran the table and won the conference title.
For Kuany and five other seniors – Kiran Shashtri, Rohndell Goodwin, Sam Daly, Michael Sakazaki and Kahanu Pu'ulei-Auld – to win the PacWest championship again would be a sweet finish to their careers.
"It would be a great way to go out, again, same way we came in," Kuany said. "… Finishing off our senior year, along with other seniors, would be a great achievement.