Freshman Hoops Star Shines Bright
Michael Sakazaki is a senior walk-on with the men's basketball team who has played sparingly in 26 games in his four seasons with the Silverswords. But he had made a key contribution to the basketball program – the CUH women's basketball program.
He recommended one of his good friends from his hometown in Guam to Chaminade women's basketball coach Bobby Keanini. Sakazaki also told his friend, Destiny Castro, about playing at Chaminade. His advice convinced Castro to come to Honolulu instead of heading to New York, where she had been considering playing for a Division I school.
With the weather and culture similar to Guam and Oahu located only about 3,958 miles away, Castro wanted to be under the sun while playing a sport she loves.
Now, Castro is already making a big impact. Castro is one of the best players at CUH; after 16 PacWest Conference games she is averaging 12.3 points and leading the team in rebounding with 7.4 rebounds. These statistics have helped her earn the PacWest Freshman of the week award five times throughout the season.
"The best player coming out of Guam, very fortunate to have her," Keanini said.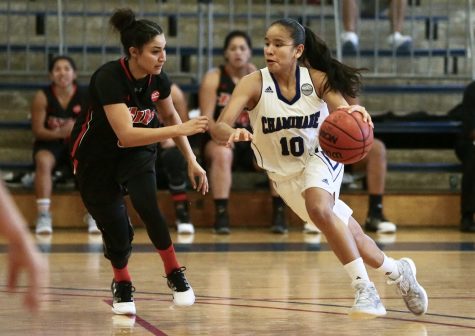 Standing at only 5-foot-6, Castro still finds an away to be an impact player in the game. Her quickness helps her get into the paint to create for others of the offensive end and on the defensive side by grabbing rebounds where she leads the team. In back-to-back games Castro was able to record double-doubles against Holy Names and Concordia (Irvine).
"[Her] athleticism covers a lot of different things, she does a lot for us," Keanini said.
She is surprised with some of the success but she had humble expectations not coming in to excepting to winning Freshman of the Year but also making it a goal to win that award.
"Yes honestly I didn't know I was coming to come in and impact the way I am," said Castro. "But once I got Freshman of the Week the first time, I was saying to myself, I really can be Freshman of the Year. And now that's my goal to do that, to become Freshman of the Year."
Earning her fifth Freshman of the Week honors, Castro is tied for the most of any player across all three weekly awards (Player, Defensive Player and Freshman) in the PacWest Conference. She is leading all freshmen in scoring with 11.1 points a game and is second in rebounding with 6.5 rebounds.
Castro was not the only the surprised by the way she is playing some of her teammates feels the same way she's been contributing to the team the best way she can teammate Kristle Henry senior guard said.
"When she first came out, I seen that she had the potential," Henry said. "As good she's doing now, winning Freshman of the Week [five] times, no I did not expect that. It surprised me."
Henry thinks the freshman is adapting well in the Chaminade system.
"For a freshman being new to the system, she is handling everything well," Henry said. "I enjoy having her as teammate."
The Chaminade women's team is 3-20 overall (3-16 PacWest Conference) and will play its final game of the season against Hawaii Pacific University on Saturday, Feb. 25. Tipoff is 5:30 p.m. at McCabe Gym.