Swords men's hoop team dominant victory in PacWest opener
On Wednesday night the Chaminade Silverswords men's basketball team put on a spectacular show against Hawaii-Hilo in its first PacWest Conference game of the season. The Swords hosted UH Hilo in McCabe Gym with nearly 300 eager and cheering basketball fans. After a slow first half, the Swords dominated in the second half, pulling away for an easy 95-70 win.
"It was a good performance tonight," said the Swords senior guard Rohndell Goodwin. "Even if in the first half we started slow, in the second half we started playing fluently and everything was good. We are just going to get better, so it is going to be a good year for us."
The Swords got off to a slow start in the first half and were not able to find its passing lanes and struggled to hit shots. Hilo capitalized and found openings in Chaminade's defense and after 7 minutes into the half the Swords were trailing 19-14. As the half went on, CUH started to find its rhythm defensively but still struggled with hitting their shots. CUH shot 1 for 9 from the 3-point line in the first half, but as the halftime buzzer rang, the Swords were up 38-37.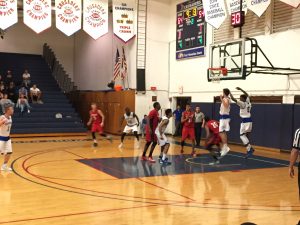 "It was a struggle offensively from the start," said the Swords head coach Eric Bovaird. "Luckily our defense was pretty decent, because we had a hard time getting things going from the start, and if you are going to be a champion caliber team your defense has to be there."
In the second half CUH came out looking like a different team. The Swords started finding each other on the court and hit their shots. Within the first five minutes of the half the Swords were up 52-43 and later increased their lead to nine points after a flawless 3-point shot from Goodwin. That 3 was just the second of the game for the Swords, but it was the shot that sparked the team's accuracy from behind the 3-point line from then on.
"I told them to keep shooting," said Bovaird. "They know they have the confidence and trust in me. They are good shooters I see it every day at practice. They know they have the green light from me to shoot, just shoot. As a shooter just keep shooting and you will get hot."
Midway through the second half, Hilo was still not able to match CUH's speed, dominant shooting and defensive play. The Swords built a 12-point lead, making it 64-52 after an impressive long 3-pointer from CUH junior guard Walker Dantley. As the end of the game drew near, Goodwin continued the hot streak of shooting with another trey, making it 83-61 with only 4 minutes left of the game. Hilo never got closer than 15 points in the final 8 minutes of the game.
"We penetrated their defense really well," said Swords senior guard Kiran Shastri. "We got to the hoop and that is something we did really well. We spread the floor out nicely and of course we hit some big 3s from Dantly, so it was good."
Senior guard Goodwin led the Swords in scoring tonight with 21 points, shooting 50 percent (3 of 6) from the 3-point line and 61 percent (8 of 13) from the field. He recorded a double-double by grabbing 10 rebounds as well. 
"Every day after practice me and my coach we put up extra shots," said Goodwin, "so I am always ready. That is something I work on every day after practice. Any way I can help the team."
Austin Pope had 18 points, Kuany Kuany scored 17 points (with 11 rebounds), and Sam Daly chipped in with 14 points.
After Wednesday's victory, the Swords' record improved to 3-3 overall and 1-0 in the PacWest. Hilo fell to 1-4 and 0-1. The Silverswords' next game is on Friday, Dec. 2, against Notre Dame de Namur (1-4) at 7.30 p.m. at McCabe Gymnasium at Chaminade.
CUH will face intra-city rival Hawaii Pacific University, which is an undefeated 6-0 this season, on Sunday at the Blaisdell Center. Tipoff is 3 p.m. HPU beat Chaminade in both matchups last season, although both games were decided by just five points.