Homegrown hoops product works her way to the top
"Kristle is a hard worker on and off the court," sophomore guard Sarah Dudzinski said. "She's a great teammate and it's really impressive how she can manage all of [her] responsibilities and still be able to focus on basketball at the same time."
Henry is one of Chaminade's best student-athletes.
The 5-foot-7 senior guard and team captain from Lihue, Kauai, is well established in the Swords' record books with 613 career points (5th), 280 rebounds (5th), 172 assists (2nd), 175-of-290 free throws made and attempted (2nd) and 127 steals (3rd). Some of her accolades include earning PacWest Defender of the Week during both her sophomore and junior years.
"Basketball gives me that motivation to do better in all aspects of my life," Henry said.
In all her success as a basketball player, what she has done outside of basketball is even more impressive. The psychology major, who is the first in her immediate family to attend college, has taken every opportunity college has given her. She is outstanding in the classroom while carrying a heavy course load, ran cross-country for Chaminade for two years and works three jobs this school year.
"I wouldn't change anything," she said. "I like where I'm at."
Henry is used to juggling school, sports and a social life. She has played basketball since she was 5 years old. This busy lifestyle is her norm and it helps keep her in line. Her hard work in the classroom has earned her Academic All-Pacific West Conference team honors for basketball three times and once for cross-country.
During her freshman and sophomore years, in addition to playing basketball, Henry decided to join the Chaminade cross-country team. Wanting to try something new and keep in shape for basketball, she became a two-sport college student-athlete.
Although she said she handled participating in two sports well, it was difficult, however, having back-to-back morning practices and traveling for the cross-country races while still preparing for basketball season.
"I did it for my family. I kind of put it as my backbone," said Henry, who received a scholarship for being on the cross-country team. "If I do this, I'm getting close to my goal and making them happy … to make them proud."
For a normal college student and especially a student-athlete, working while going to school can be a difficult task. Henry is working three jobs this semester.
She works in the Silversword Café, the Carlson Fitness Center, and worked event staff for other Chaminade sporting events. During her sophomore year, she started working event staff and then halfway into the school year, she began working at the Silversword Café as well.
With basketball season starting, she is unable to work event staff for her own sport, but she recently applied for another job at a restaurant in Waikiki.
This semester, Henry is taking 19 credits. Four of her classes are online and two of them are Tuesday and Thursday classes on campus. The flexibility of her school schedule provides her with the opportunity to work three jobs. In addition, she is allowed to do her homework while she works at the fitness center and the Silversword Café.
In the whirlwind that is Henry's life, she still has a social life on the weekends and enjoys spending time with friends. However, she said, she finds herself wanting to just relax and watch Netflix rather than be social lately.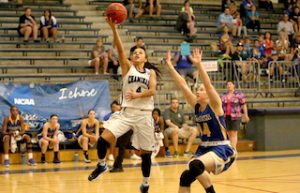 "My mentality has changed to just stay focused and just knock this year out and then I have the rest of my life to do whatever I want," she said.
Looking toward the future, after graduation, she hopes to stay within the realm of fitness. With her heightened passion for weightlifting, she is interested in becoming a personal trainer. Nevertheless, she is keeping her options open and wanting to just focus on the present.
As Henry's senior season is now underway, playing for Chaminade has been a good experience for her. The team suffered a season-opening loss to Central Washington in which Henry scored 8 points.
"I feel like it was a big learning process for me," she said. "I've learned a lot and I've grown a lot and I'm happy to be where I'm at right now."