CUH women's basketball looks to improve this season
Last year the 2015-2016 CUH women's hoop team had its third best season since the program was introduced. The Swords had a fiery start last season winning three of their first six games and showed great promise. As the season continued the Silverswords struggled and lost 11 of their last 12 games.
This year, they will try to improve from last season's record 5-19 overall (5-15 PacWest), the Swords have focused on building confidence and improving their defense.
"We have done a lot of things that try and help us in our confidence and conference," said CUH Head Coach Bobby Keanini. "PacWest is a big conference and teams shoot the ball well. So we have worked a lot on defense. Our size is a problem because we are a very small team. We are hoping depth helps us. We have a lot more players who can contribute competitively so we are hoping that they can help us."
CUH lost six players from the previous season, including starting guards Shana Kawakami and Sabrina Angle, who averaged 14 points total per game.
This year the Swords have six new players. One of them is 5-6 guard Destiny Castro, a freshman who graduated from Notre Dame High School in Guam where she was named to the league's first team all four years. Forward Melina Souza is a 5-7 freshman from Damien High School who averaged 19.5 points per game in HHSAA Girls Basketball Championships last spring. Four other new strong players are Brooke Rickard (a senior), Jakarra Waddell (a junior), Sarah Dudzinski (a sophomore) and Kali Benavente (a freshman).  
"We got a few new players that came in who will contribute," Keanini said. "But they are some spot players who do really good things in certain areas offensively and defensively."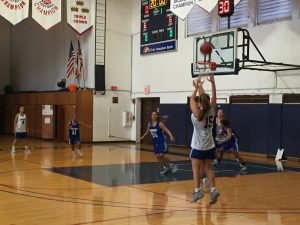 CUH averaged 60.5 points per game last season, ranking 10th in the 14-team league. This year the Swords are looking to combine the experience of their seven seniors and new players to improve their offense from last year.
"With seven seniors we are looking for them to lead the team with experience," said Keanini. "Offensively we are looking to run and shoot the ball quickly. Shoot a lot of shots. We are not looking to hold the ball and run a lot of offensive sets. At the first opportunity we have for a good shot, we'll have to take it."
Last year CUH finished second to last in scoring defense allowing 73.8 points per game. The Swords also found themselves not able to clinch the close games and fell short in four games by only 5 points or less.
"This year we have to play better defense, box out, and get the rebounds," said senior guard Kristle Henry, who was third on the team in scoring (8.8 ppg), second in rebounding (4.6 rpg) and assists (2.9 apg). "We have practiced a lot on the box out, playing tougher defense as a team and just must be alert and ready for any situations thrown at us. We must win the close games."
Keanini is optimistic about the upcoming season and clinching the sixth spot to make it into the PacWest playoffs.
"We are looking at the PacWest Conference," he said. "If we can get to 10, 11 wins, we have a chance to get into that playoff area. It is not unreachable for us. I think if we have some success coming out and we can win games when we need to, that will put us in a good situation."
The CUH women's hoops team will suit up for its first season game on Wednesday, Nov. 16, against Central Washington at McCabe Gymnasium at 5 p.m.