Swords start the season off right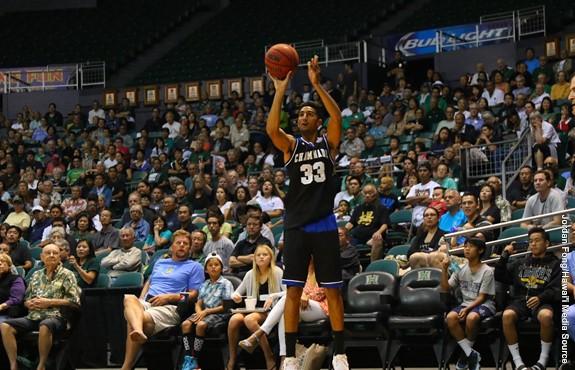 The men's basketball team started off its season with a victory over 12th-ranked Alaska Anchorage on Friday night at Moanalua high school. Senior guard Rohndell Goodwin led the Silverswords to a 92-81 win against the Seawolves.
"Awesome performance by the entire team," head coach Eric Bovaird said. "Especially Rohndell Goodwin … he's such an incredible player when he wants to be. He was a beast tonight."
Goodwin led the Swords with a team-high 29 points, shooting 57 percent (12 of 21) from the floor. Senior guard Kiran Shastri had 19 points of his own, shooting 63 percent from the floor (5-for-8).
CUH's bench outscored the Seawolves 32-10 on Friday night. Junior guard Dantley Walker added a career-high 19 points, all from behind the 3-point line (6-11). Junior-college transfer Austin Pope also had 10 points, shooting 56 percent from the floor (5-9).
"Our offense was flowing tonight; we really played as a team," Goodwin said. "Nobody was being selfish and everyone was playing together, and when we play together good things usually happen."
Although the Swords were out-rebounded 40-26 and allowed UAA 28 second-chance points, they made up for it with their offensive efficiency. CUH shot 54 percent from the floor (32-59), including 13 of 27 from 3-point range.
"We have to get better at not allowing our opponent so many offensive rebounds," Goodwin said. "But we also shot well, which means we had less opportunities to get rebounds, so there's the flip side to that statistic."
UAA senior guard Suki Wiggs, the Great Northwest Athletic Conference Preseason Player of the Year, shot 4 of 8 from 3-point range and a program high 17 of 19 from the free-throw line. Despite his 33-point performance, the Seawolves were unable to match the offensive firepower of Goodwin and friends.
Although the Seawolves made a run at the first two minutes of the second half to tie the game at 48, the Swords answered with a 7-0 run. CUH pushed the lead to double figures with 11:15 remaining, but UAA would not get closer than 7 points the rest of the game.
Goodwin closed the door of the Seawolves with a late 3-point play (the traditional way) that put the Swords up by 10 with less than 2 minutes left in the game.  Walker added a final 3-pointer to cap off the night.
"I'm happy for our guys, they just beat the No. 3 team in the country, according to Sporting News," Bovaird said. "There's always things we can improve on, but I'm really excited to get off to this start."
Ranked as high as No. 3 by the Sporting News preseason poll, UAA was held to 43.4 percent shooting from the floor while making only 7 of its 21 3-point attempts.
"Now we need to have a good week of practice and stay focused going into the Maui Invitational," Goodwin said. "If we play together as a unit like we did tonight then we'll be pretty hard to beat. … Till then were going to rest well and get ready for tomorrow."
On Saturday, CUH improved to 2-0 with a 80-66 win over the University of Alaska. The Swords' next games will be in the Maui Invitational, which starts Monday, Nov 21. CUH will face Division I North Carolina, which is currently ranked 5th in the nation and was the national runner-up last April. The Maui Invitational will also feature powerhouses like 4th-ranked Oregon and 9th-ranked Wisconsin.