Men's hoops focuses on defense for upcoming season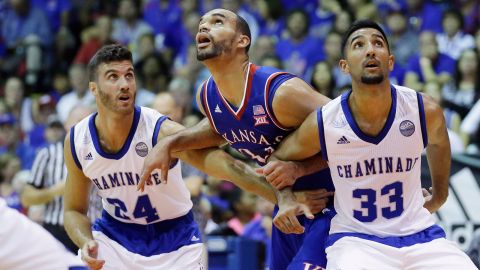 The 2015-16 Chaminade Silverswords had the most potent offense in PacWest play. They averaged a whopping 92.3 points per game, nearly five points more than the second-best team. But the team finished last in scoring defense, allowing a league-worst 90.8 points a game, five points worse than the next-closest team.
Trying to improve on last season's 12-15 losing record (10-10 in the PacWest), Chaminade focused on its defense in the offseason.
"We focused mainly on our defense this offseason," said CUH coach Eric Bovaird. "Last season we were the number one team in the conference offensively, but we were near the bottom defensively. It starts with the defensive field goal percentage … We're looking to force people into tougher shots."
Chaminade lost three starters from last season including Kevin Hu, David Ware, and Oscar Pedroso, who combined to contribute nearly 26 points a game. Kuany Kuany, who was voted to be on the preseason All-PacWest team, is back for his senior year. The Swords also made some key pickups in 6-5 guard Austin Pope from North Idaho College, 7-1 center Nate Pollard from Rice University, and 6-4 guard Justin Bridges from Georgia Highlands College. Also, to help with defense, the coaching staff  has a new addition in Tim Bross from Hawaii Pacific University.
"There is a lot more energy in the gym and this year we are more together as a unit," senior guard Rohndell Goodwin said. "We made it a point in the offseason to focus on our defense… there are a lot of things we still need to work on."
Last year, of the Swords' 15 losses, eight were by five points or less. In many of these losses came down to the last couple of processions.
"It starts with coaching, I need to be better prepared for end-of-game situations," Bovaird said. "It's something that we have been focusing on and that we look to improve this year."
In order for the Swords to have a successful season they will need to finish out these close games.
"It's the little things that add up over the course of a game, a missed box out here or a lazy defensive possession there, a missed free throw, it all adds up," senior guard Kiran Shastri said. "We have a lot more confidence as a team and we are definitely more prepared going into our first scrimmage this season as opposed to last season,  we still have a long way to go but we are looking good."
After a disappointing record last year, and another losing season of 12-14 the year prior, pressure is on the men's team to avoid three straight losing seasons.
"We are further along then we were this time last year, both defensively and offensively," Bovaird said. "But we still have a long way to go so we are going to continue working hard."
There is a strong sense of responsibility and expectations from both players and coaches alike as they look to start the 2016-17 season with a pair of wins. The first game on Friday, Nov. 11, is against Alaska Anchorage and the second game on Nov. 12 is against the University of Alaska. Both games are at Moanalua High School and will begin at 5:30 p.m.