Why I chose not to party and drink in college
For four years, my typical Friday night in college was: locking myself in my room with a container of Ben and Jerry's and Netflix and chill, party of one. However, my Friday night was a stark contradiction from most college students' night out partying and drinking. As an ex-college softball student-athlete, I am proud of my decisions to have stayed away from parties and alcohol.
In my time as a student-athlete, my NCAA eligibility was precious to me. I knew that it would come to an end soon. For my first two years of college softball, I spent it sitting on the bench, picking up bats and working to be the best teammate I could. During my junior year, it was too expensive for me to transfer to another school. So I quit softball to save my eligibility, stayed at that school as a regular student and trained my butt off to keep myself in shape until I could transfer.
Thankfully, I transferred the next year to Chaminade University and was finally given the opportunity I dreamed of. I earned a starting position during my last two years of eligibility and it was all up from there.
Knowing what I went through to get where I was, playing softball and giving it all my time and effort was more important than any party or any night out drinking could have ever been.
As I arrived as a freshman in college, my newly made friends would want me to go out with them, but I would decline. For the times my friends could actually pull me out of my room just to go hang out at their house, I would drink my own bottle of water (that I brought myself so no one would spike my drink) despite their peer pressure and nagging.
"Come Amber, it's just one shot" or "Amber, I want you to drink with us" is what I would constantly hear, but it still was not worth the risk of getting caught.
All it would take is one picture of me drinking alcohol or just being in a picture while others were drinking to put me on probation or even suspension from the team.
Although student-athletes may be of the legal drinking age, schools and teams discourage drinking, and of course partying. If a student-athlete were caught in person or on social media behaving in a way that would embarrass or dishonor the school, that student-athlete would be reprimanded. Sometimes, the media finds out (in situations with big name schools and big name student-athletes) or worse, the school retracts their scholarship.
For these reasons, I was too afraid to even hangout with my friends while they were drinking, let alone participate. Missing one game or even a practice would have been the end of the world for me.
From my freshman year until last year when I stepped off the field for the last time as a student-athlete, I lived by two realities that I developed over the last five years: I have my whole life to party and drink, and I am spending way too much money on college to waste it away partying and drinking.
As a college athlete, per NCAA rules, I had four years or 10 semesters to play softball. That was such a small percentage of my life. I am 23 years old, and I made a decision that from age 18 to 23, I would strictly focus on my academics and playing softball.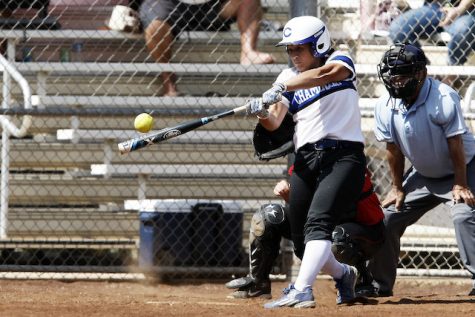 In addition, it was a privilege to play NCAA Division II softball. According to the NCAA, only 1.6 percent of high school softball players make it to the Division II level and 5.4 percent of high school players make it to the NCAA. As a part of the 1.6 percent who made it, why would I risk my eligibility just to go to one party or drink for a night?
Yes, I am young and some of the best times to go out to party and drink are during college. However, there is much more to life than wasting it away on crowded parties and expensive alcohol.
Looking at this from a monetary standpoint, college is expensive. I could have purchased a brand new Dodge Charger for the amount I paid in tuition every year. Why would I spend around $30,000 a year on tuition, that is being paid by my parents and myself, just to waste it on partying and drinking? I have a large amount of student loans in my name and it would be so ungrateful of me towards my parents for helping me pay for my education just to have me waste it away. It is absolutely absurd. If that were all I wanted to do, college would be a waste of my time.
Moreover, alcohol is expensive. I work a lot during the summer in addition to on campus jobs during the school year. There is much more tangible and worthwhile things I could spend my money on rather than alcohol. If I wanted to splurge my money on something, I bought ice cream.
Lastly, I abstained from drinking or partying because as a college softball student-athlete, I represented much more than just myself. I represented my school that gave me the opportunity, and a scholarship, to play the game I love under their name. I represented my team who were affected by both my positive and negative actions and decisions. I represented the 18U team I coached during my summers who saw me as a positive example. I represented my younger sister who also wanted to play college softball and looked up to me. Most importantly, I represented my family who had supported me through all my failures and successes. It was because of them that I had the opportunity to fulfill my dream of playing college softball.
In my two years at Chaminade, I was rewarded for all my hard work in the classroom and on the field. In my first year, I went from being the new person on the team to a starter. I was the designated hitter for most of the season and even got some time at third base. I ended the season as one of the team's top hitters and earned Academic All-Pacific West honors.
In my last year of eligibility, I started all 46 games, was voted the secretary for Chaminade's SAAC (Student-Athlete Advisory Committee), named a team co-captain, earned Academic All-Pacific West honors again, named to the CoSIDA Academic All-District 8 first team, was on the short list of Chaminade student-athletes who earned the Division II Athletic Directors Association Academic Achievement Award, was the first softball player to earn the Silversword Award (Chaminade's athletic department award for best representing its Marianist values), was named the team's most inspirational player by my coaches and was the second student-athlete in Chaminade school history to be named a CoSIDA Division II Academic All-American. One of my dreams was to become an NCAA All-American and seeing my name listed on the third team as a designated player further confirmed that I had made the right choices along the way.
Some say that partying and drinking is a part of the college experience. Some even think I missed out on a lot of opportunities to have fun, but I had a different idea of fun. My idea of fun was enjoying every moment of softball I could and working to be the best I could. Softball has been an enormous part of my life and my family's life for so long. The thought that my competitive playing career was coming to an end made me sad. So I set my priorities and stuck to them. In the end, I walked away from the game I love satisfied with my career and proud of my decisions.