Big win for Silverswords' volleyball team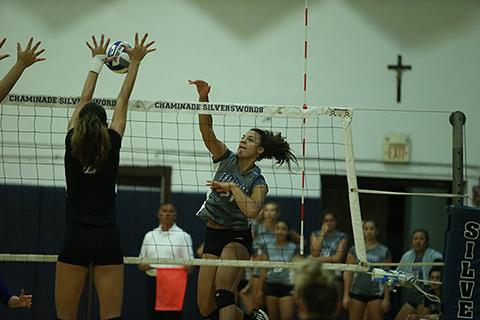 In BYU-Hawaii's last trip to Chaminade's McCabe Gym, the host Silverswords dominated the visiting Seasiders by rolling to a 3-1 victory (25-23, 17-25, 25-19, 25-8). It was CUH's second-straight win over BYU-Hawaii (including a win in last season's home finale).
"We started off slow but kind of picked it up in the end," said junior setter Natashya Enos. "Intensity was a big thing our errors kind of added up in the second set."
Sophomore and middle blocker Daisia LaBrie got an astounding 10 kills in the game with Enos with 22 assists.
Since 2010, the Chaminade volleyball team has struggled to get a win against the 10-time national champion BYU-Hawaii. Before Wednesday, the Swords have won just 1 out of the 11 matches played in the past six seasons. They also won just 4 out of the 34 sets played in that same time.
On Wednesday, the Swords showed up and showed out with an almost easy win in the last set with a score of 25 to 8.  They did an excellent job defensively throughout the game rallying and working as a team defensively. Senior defensive specialist/libero Waihilo Chartrand and senior hitter Kim Springs got 25 digs throughout the match. 
"This win has helped to motivate us to keep practicing hard and executing during games," Chartrand said. "We played as a team, although we did have some mistakes that helped us to push through and showed that we got each other's back."
Head coach Kahala Kabalis Hoke was pleased with her team's win. She is anticipating a strong season for the team as it starts a four-match road trip on Monday with Point Loma in San Diego.
"I believe everyone knows that we're capable of playing better in that first and second set even the third set," Hoke said. "I'm really glad the way we finished here in four, keeping them under ten. That's a huge accomplishment for the team. We're still trying to find that consistency so as everybody can see we have a really talented squad but finding that really good rhythm is still something we're working on."
The Swords will play BYU-Hawaii again in Laie on Nov. 4. It will be the final home game for the BYU-Hawaii Seasiders, whose administration announced that it would close its athletics program after the end of the 2016-17 school year. 
"Definitely we have more confidence playing them knowing their strengths and weaknesses it helps that we won you know more confidence and everything," said Enos.
BYU-Hawaii has been known to dominate in its home gym, leaving the Silverswords aware of the possible outcome for the game coming up in November.
"Their gym is really tough to play in, but I think it's good that we got the 'W' here first," said senior defensive specialist Kasse-Ann Kiriu-Dela Cruz.
With this strong win the future is hopeful for the Sword's volleyball team. Every player is a team player and with the unity of this team anything is possible.
"This season will be great, we have a versatile team and everyone works hard and pushes each other just like it should be," said Chartrand. "Each individual brings great talent to our team."