CUH goalkeeper chose Chaminade over stardom
Bernd Buescherhoff had all the pedigree of a rising star in one of the top youth leagues in Germany.
As a 13-year-old, he caught the attention of his state's team and eventually became the starting goalkeeper for a club team in the prestigious Northern Youth Bundesliga, a youth league that is known to develop high-level professional players.
But instead of doing what every German kid dreams of, he chose to fly halfway around the world to study and play goalkeeper for Chaminade University, a NCAA Division II program in Hawaii.
At just 18 years old, Bernd Buescherhoff, a 6-foot-3 native of Steinfeld, Germany, lived up to the expectations in his very first game for Chaminade, where he displayed his outrageous shot-blocking abilities against Hawaii Pacific University in the 2014 season opener. He has been a mainstay for the Swords for two seasons, and with the graduation of fellow keeper Rene Mejia, the program cherishes him now more than ever.
Even in a soccer or "football"-crazed country like Germany, early in his youth career Buescherhoff was able to stand out due to his size and athleticism. After making the Northern Regional team, the 13-year-old keeper sparked the interest of his state's team, Niedersachsen. When he was 17 years old, Buescheroff helped guide Niedersachsen to the 2013 Northern German Championship.
After being recognized by his state he was offered a spot on VfL Osnabruck, a club in the prestigious Northern Youth Bundesliga where he developed into their starting keeper in both the Under-17 and Under-19 level.
With such an impressive resume, the German prodigy would be expected to play professionally or to at least attend a college with a top-notch soccer program, but Buescherhoff had different plans. Even with various lower-division professional contracts thrown at him, Buescherhoff had his mind set on studying.
"To be pro, especially in Germany, you have to sacrifice a lot," Buescherhoff said. "We were training once or twice a day, traveling all over, and I had no free time to hang out with friends or family. Everyone around me would kill to be in the position I was in, but I wanted to pursuit a career as a doctor because it was always something that interested me."
Buescherhoff got a taste of what it was like to be a professional soccer player, and although he enjoyed the experience, the lifestyle simply wasn't for him.
It was for this reason that Buescherhoff chose a Division II school over many Division I offers from schools like Saint Louis University, Stetson University,  and Virginia Commonwealth University. He still wanted to play the sport he loved while focusing mainly on his studies. Chaminade was a perfect fit for his goals and aspirations, also the Hawaii location made his decision a lot easier.
During his first season in 2014 Buescherhoff made a major impact, with a total of 37 saves, helping lead the Silverswords to a school-record six wins. He posted a season-high nine stops against Fresno Pacific, the conference's top offensive team that year. He was honored as Freshman of the Week and was named as an All-PacWest Men's Soccer Honorable Mention. Before Buescherhoff it had been more than two years since a Chaminade men's soccer player had earned a weekly conference honor. In his 2015 season he impressed once again, recording a total of 32 saves.
"I'm happy for Bernd. From a very early stage it was easy to tell that he was one of our best natural talents in terms of blocking shots," said Jurgen Mehl, Buescherhoff's goalkeeper coach during his four-year stay at VfL Osnabruck. "We knew wherever he'd end up that he would excel."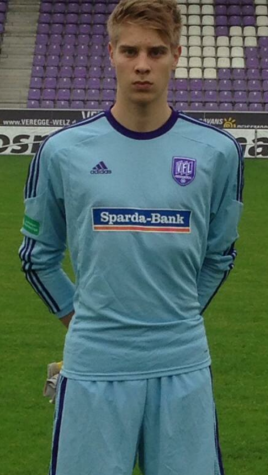 Buescherhoff continues to play a key role for Chaminade men's soccer, despite the consistent adversity the team has been faced with for the past two years. As he goes into his junior season, he'll be lead by his third head coach here. It's hard to achieve success with that much turnover, but Buescheroff has been known to keep the Swords in games they were dominated.
Buescheroff has enjoyed his time at Chaminade and plans to finish out his two remaining years strong both academically and athletically. It's not every day that the Chaminade soccer program retains a player with Bundesliga experience, and Buescheroff has no interest in leaving.
"I love my life here in Hawaii and at Chaminade," said Buescheroff. "If I could go back in time I wouldn't change a thing,"