Maui Monday
The Chaminade Silverswords faced off against the Kansas Jayhawks Monday night at the Lahaina Civic Center. Kansas overpowered the Swords with their size and ability to drive to the net.
Kuany Kuany is the tallest in the Silversword lineup standing at 6-foot7, whereas the Jayhawks' starting five had four men over 6-foot and two that were 6-foot-8 (Perry Ellis and Jamari Traylor).
"They were what we expected," said CUH coach Eric Bovaird in the press conference after the game. "They were big, strong, and they come at you in waves and we were hoping that they would not shoot the ball from the perimeter as well as they did. Our whole goal was to try to help our guys on the inside as much as possible. We knew they were going to try and high-low us to death, and you just kind of hope that they don't knock down outside shots, and they did."
The Swords' shot 34 percent from the field in comparison to the Jayhawks' 64 percent, which was reflected in the final score of 123-72.
Playing against a team with such a great height advantage pushed the Swords to shoot from the outside. However, they only made eight out of 33 3-pointers. Five of which were made by Chaminade junior Kiran Shastri.
"I think things could have gone differently if we even shot our normal percentage of wide-open threes."
The Swords shot an impressive 53 percent from behind the arch in their loss to Alaska earlier this month.
"The zone has been successful for us in years past against teams that had great big guys like Baylor, and Pittsburgh last year," Bovaird said. "You've got to pick your poison when you're playing a team like Kansas. Most of my team is 6'5″ and under. They're good at every position, don't get me wrong, but it's a heck of a lot easier to make a lay-up than it is to make a three- point shot."
The only lead that Chaminade obtained was in the first 20 seconds of the game when Rohndell Goodwin drained a 3-pointer in the first possession of the game. The lead was only held for just under two minutes until KU's Frank Mason III scored seven consecutive points for the Jayhawks. They held the lead for the next 38 minutes.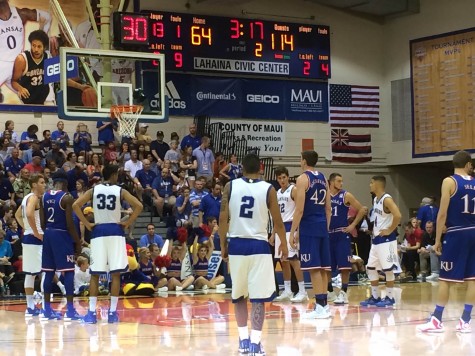 This lead reached it peak in the 2nd half where they dominated the Swords by 55 points.
Kansas, ranked 5th in the nation, achieved the 6th most points scored in program history. This was record-breaking game for the Jayhawks with the most points scored on a neutral-site game and it ended as Bill Self, KU's head coach's, highest scoring game of his career.
"I don't want to sound negative towards Chaminade," said Self. "But we knew coming in if we played well, we had a size factor, a size advantage and depth advantage and things like that."
Chaminade lost in round two against UNLV with a final score of 93-73. They will take on St. Johns on Wednesday's game at 9:30 a.m. HST.