Women's softball will say goodbye to eight seniors
The season has almost come to a close for the 2014-15 Chaminade Silversword softball team. The Swords will be saying goodbye to eight seniors, seven of whom have been at Chaminade University for their entire collegiate career.
Outfielder Elia Lizarraga has been dependable ever since she stepped on the field for the Swords. Started 46 of 47 games her freshman year and continued to start for the rest of her career. She also earned Pacific West All-Academic Team her freshman and sophomore year. Lizarraga was named the team's Most Valuable Player last year as a junior.
"Well, it wasn't the best season to go out on as a senior but I enjoyed every moment with my teammates," Lizarraga said. "I will never forget these times with the greatest teammates I could ask for. I wouldn't change it for the world. I can look back and say I had a solid career playing softball."
Ashley Phelps, the 5-foot-5 catcher, has been on the Pacific West Conference three years in a row. Her junior year she also earned All-PacWest Conference Third Team.
"I knew coming into the team that it was going to be a lot of fun and I was going to make good friendships and memories, but I didn't expect four years to go by so fast. I am happy that seven of us stuck together," said Phelps. "It's been a bittersweet season knowing that my softball career is coming to an end, but I've had a lot of fun and it's been a really good learning experience."
Aja Keyes, Kaitlyn Watanabe, Theresa Capllonch, and Kristiann Endow also are the four seniors from Hawaii. Keyes attended Lutheran high school in Kaneohe, and Capllonch went to Kalaheo in Kailua, and Endow is from Kalani high school.  Watanabe graduated from Baldwin in Kula, Maui.
Shannan Hokama has earned PacWest All-Academic Team the past three years. During Hokama sophomore season in 2013, she was fourth on the team in batting average (.326). She also was second on the team in RBI and runs with 28 each.
Brett Aspel, one the team's main pithers has been on the PacWest All-Academic Team the previous three years. With two games remaining Aspel has a 4.40 ERA.
"I am so blessed to have played four years of collegiate softball. My team is what made this year and the years in the past so great," said Aspel. "I wish we could have had a better season but I know my team worked as hard as they could.  I'm sad that my softball career has come to an end but I'm also excited for the future and the next chapter in my life!"
The Silverswords are currently 10-36 with two games remaining. The Swords will take on Hawaii Pacific University in a double-header on Saturday, May 2, at noon and 2 p.m.
About the Contributor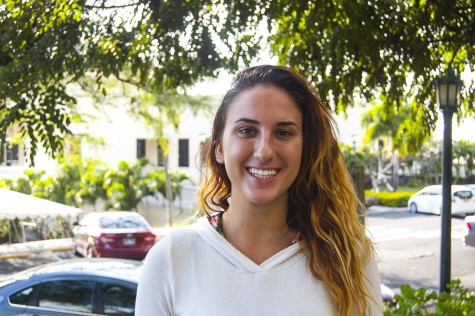 Katie Buskey, Staff Writer
Katie Buskey is a senior at Chaminade University who is working on getting her communications degree. Katie first started her college career playing basketball...