Shy Harada makes CUH men's golf history
Jarin Harada is an unassuming and reserved 5-foot-4 junior. His voice quivered as he would pause for seemingly long breaks during an 8-minute interview.
However, Harada sheds his shy demeanor on the course and has left little doubt about his golfing talents in 2015.
Since the championship season began in early March, Harada has won two out of the three tournaments he competed in and been awarded PacWest Conference weekly honors twice already.
Harada first made Chaminade University history on March 20 when he was named Pacific West Men's Golfer of the Week. He is the first-ever Sword to garner Golfer of the Week honors.
The junior from Honolulu nabbed the honor after winning his first tournament of the spring championship season on March 12 at the Aloha at Oahu Tri-Match at Leilehua Golf Course. Harada captured the win after shooting a 2-under-par 70, winning the 18-hole tournament by two shots to mark his third career win.
"I was surprised to win (Golfer of the Week) out of the entire PacWest Conference," Harada said on March 30. "It does motivate me and affects my confidence because now I know what I am capable of accomplishing. I used to doubt my abilities … but being named (Golfer of the Week) boosts my confidence."
Harada said he first heard the news from his sister, Kacie Harada, who is the graduate assistant coach of Hawaii Pacific University's women's golf team. He said his parents were ecstatic and proud of his accomplishment.
His father played a pivotal role in his golfing career by introducing him to the game at age 7. Growing up he practiced with his older sister and still plays with his dad once a month. Harada said he loves the game of golf because of the important life lessons his learned over the years about integrity, discipline and work ethic.
After his first tournament win of the season, Harada said his short-term goal was to win the upcoming dual match against BYU-Hawaii on April 1.
Harada's newfound confidence helped him shoot an astounding 4-under-par 68 to win the second straight match in a dual match against island rival BYUH at Olomana Golf Club.
His collegiate career-low round of 68 helped him garner Pacific West Conference Co-Men's Golfer of the Week for the second time in this season on April 2. He shared the honor with Dixie State's Kenny You.
"Winning two weeks in a row is definitely a surreal feeling," Harada said on April 6 about his recent tournament successes and second PacWest honors. "Especially since this past week was a full field of PacWest players playing."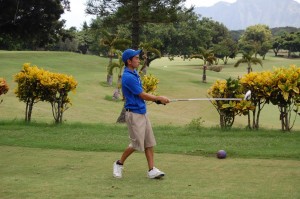 Harada said he felt notably more confident going into his dual match against BYUH. He said in the past he struggled with his confidence because he felt that he was practicing as hard as everybody else but unfortunately the results weren't showing. After being named PacWest golfer of the week and winning the first championship season tournament, he said it showed his hard work was in fact paying off.
Harada considers his short game and ability to hit the ball straight his golfing strengths, since his short stature hinders him from hitting the ball far distances. He said he lacked the mental toughness and confidence to perform at his highest level. His coach, Renee Yuen, helped him implement a pre-shot routine to help him improve his shot-execution.
"I visualize my target … where I want to go," Harada said in reference to his pre-shot routine. "Then I take three practice swings before I actually hit the ball."
He said implemented this pre-shot routine for his first championship tournament of the season and was happy with the excellent results.
Harada's teammates, Lucas Park and Justin Taparra, showed an outpouring of support for their team captain and his recent historic successes.
"Jarin is the nicest teammate I've ever had," said Taparra, a sophomore from Mililani. "He never has anything negative to say. … He is one of those guys who always has a smile on his face."
"I have no doubt that he deserves those titles," said Park, a freshman from Wailuku, Maui. "He has proven himself a selfless leader and he makes the team his priority. He has definitely earned my respect as a player and is a key asset and contributor to our golf team."
Harada has had a successful career at Chaminade thus far. For his freshman season, he was named Second Team All-Pacific West Conference and led the Swords with a 75.3 per round average in six total rounds. He was also named the team's Most Outstanding Player.
For his sophomore campaign, Harada won his first career tournament Feb. 18 and followed it up with another win on March 11. He was named the team's Most Inspirational Player.
Although Harada's career as a Silversword is already quite notable, he still has more he would like to accomplish for the rest of this season. One of his hopes is to be named First Team All-PacWest.
Harada would also like to finish in the top 10 at the PacWest Conference Championship in St. George, Utah. The conference championship runs from April 20 to April 22.
"I feel that through all the recent successes, my confidence going into the PacWest Conference championship couldn't be any higher," Harada said. "I'm just going to keep practicing hard and be as best prepared as I can be so I won't have any regrets."
About the Contributor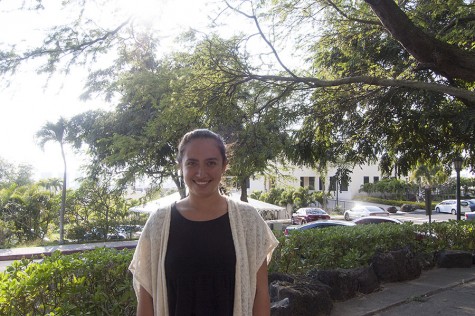 Melanie Schumilas, Staff Writer
Melanie Schumilas is a senior at Chaminade University from Toronto, Canada. Melanie has played on Chaminade's women's tennis team since transferring in...