UH men's volleyball finds ways to uphold its strong season
The Rainbow Warriors men's volleyball team is continuing its outstanding season. Earning significant wins this season against some of the best teams in the country.
Already defeating University of Southern California ranking No. 2, Pennsylvania State University ranking No. 3, and defeating the University of California, Santa Barbara twice ranking No. 3 the Warriors have dominated the start of their season. They have earned another win in four sets with a final score of 3-1 and with each set resulting with 23-25, 25-20, 25-17, and 25-22 against California State University, Northridge on Sunday, Feb. 22.
As the Warriors stepped foot on the court to defeat the Northridge Matadors they got off to a rough start. With the UH losing 16-8 in the first set, Hawaii's head coach Charlie Wade decided to put senior setter Alex Jones, former Northridge student and athlete, in the match.
When Jones entered the match, the whole game turned around. Jones killed it on the court, he got 11 digs and 42 assists with one error. They were losing 16-8, but ended the set with a close loss of 23-25. The following three sets UH buckled down and the Warriors won 25-20, 25-17, and 25-22.
Senior setter, Alex Jones, "works harder than almost anyone…" said middle blocker Taylor Averill.
Jones has not been playing in every game this season, but when Wade brought him in, the team made a u-turn.
"Man, that guy brings so much fire and … so to have a guy like Jones come in and just flip flop the energy when were getting killed and we make a really good comeback and still win the set," Averill said. "That just shows that volleyball is a big game of momentum so again hats off to Jones for coming in and saving us."
Not only did Jones "bring fire" to the match, but so did other players as well including senior opposite Brook Sedore and senior middle blocker Taylor Averill. Both players were "exceptional," according to Wade. Sedore accomplished a great deal with 24 kills as well as Averill earned 17 kills with only two errors.
Junior libero Kolby Kanetake also had high expectations for this upcoming match. Urging him to work hard during this match against Northridge and due to his hard work Kanetake got 14 digs and three assists.
Wade was expecting a competitive match for his team and that is what he got. He plans to take away a great deal from this match against Northridge for the rest of the season.
"We acknowledge that we have some depth. We need guys to step up and we need everybody to be ready," said Coach Wade. "…and we have to be ready to play. Emotionally we were pretty flat coming into it. With whether we have won five in a row or three or whatever it was and thought we could just come and play and we got to be mentally more prepared to come and compete."
With winning the previous match against Northridge on Feb. 20, the Warriors came into the game with ease, but as the match continued with Northridge winning the first set, they knew they had to step up their game.
Overall, it was a good match according to Coach Wade,
"Good team win, you know a lot of guys coming off the bench, some guys haven't played for a while, some guys that really never played and it really was a full team effort."
With the season still continuing the Rainbow Warriors are continuing to push themselves to be better athletes and be able to fulfil their goals for the season, including Sedore who wants to
"make the state of Hawaii proud," and "bring home as much wins as we can. Bottom line, host the play-off game and go from there. Obviously it is kind of given, that we want to win the championship," Sedore said.
Ending the match with scores of 23-25, 25-20, 25-17, and 25-22, the Warriors dominated on the court leaving them with an overall record of 11-3.
About the Contributor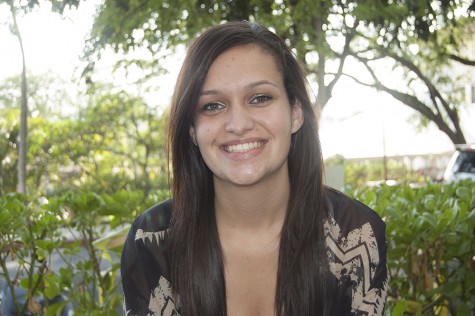 Alicia Mussman, Staff Writer
Alicia Mussman is a senior at Chaminade University majoring in Communications and will be graduating in May 2015. Mussman is originally from South San...