Senior Swords reflect on the end of their collegiate basketball careers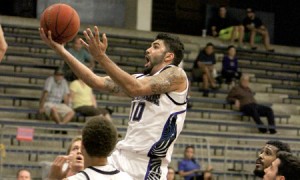 Three senior Silverswords will face the bittersweet end of their collegiate basketball careers on Feb. 28.
Seniors Lee Bailey, Frankie Eteuati and AJ Mathew will be suiting up for the last time as Chaminade teammates on Saturday against Academy of Art. Tipoff is at 7:30 p.m.
Although the trio knew it was its last season, the reality hit each of them at different times.
Bailey said it "hit home" for him once he realized there were only two games left in the season. Mathew said he texted his fellow teammate, Kiran Shastri, on Monday that he couldn't believe there were only five days left. Eteuati said he realized the end was near seven games ago.
"It's scary, but at the same time it has been a long journey," Mathew said. "But I don't think I'm ready for it to end even though it's so close."
Each senior is unsure how they will react once the game is over, but they all agreed they will feel extremely emotional before and during the game. Mathew said he might shed a few tears in the locker-room after the game is done.
"It's just crazy that it'll be my last time playing in McCabe gym and in a Chaminade jersey," Bailey said.
After Saturday's game, the seniors will have to face the next chapter of their life outside of Chaminade.
While Bailey and Eteuati said they were looking to continue their basketball careers, possibly overseas, Mathew is taking an alternative direction after graduation. He said he would like to be involved with the business side of sports, such as coaching after completing his Master's degree.
Bailey has been with the Swords for all four seasons of his college career, while Mathew and Eteuati are junior-year transfers from mainland colleges. All three seniors were teammates when they captured the PacWest Tournament Championship in March 2014.
"Winning a conference (tournament) championship is super tough to do in college and then making the NCAA tournament is even harder to do," Mathew said. "Thankfully we were blessed enough to be able to do both."
The senior Swords look back on their times at Chaminade fondly. Mathew and Eteuati both said that their teammates at Chaminade were an astounding group of men, especially compared to their prior schools.
"This is the only team I've been on where everybody is cool with one another, none of that extra unnecessary stuff," said Eteuati. "It was also cool to have such a diverse group of men create a functional environment. It's been an honor to play with these men."
The seniors unanimously agreed they will miss their teammates after they hang up their Chaminade jerseys.
"I just loved the relationship I developed with my teammates and coaches," Bailey said. "It's funny because I can't remember any game scores but the moments that I shared with those guys I will remember for a lifetime."
Bailey has had three stellar seasons with the Swords. Amongst his impressive list of accolades, he was named PacWest Co-Freshman of the Year and the PacWest Tournament Most Valuable Player his junior year.
"He's been very key to our success over the four years," Coach Eric Bovaird said. "We made back-to-back NCAA appearances and won the (PacWest Tournament) championship his junior year. He's been here with me since day one."
Bovaird said Mathew is an incredible leader who has a positive attitude and influence on other players, no matter how many minutes he plays. In regards to Eteuati's impact, Bovaird said he was a unique and dynamic player on the floor and he has the ability to play with anyone in the future.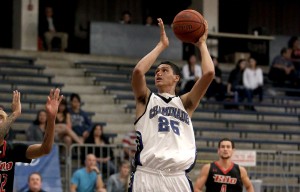 Bovaird said he hopes he adequately prepared his senior players for life after basketball through numerous meetings and individual talks. He said part of "grooming" his players was encouraging them to be continuously strong academically.
Although Bovaird is sad to see his players move on, he said it's something he is prepared for as a basketball coach, and as a former collegiate player at West Liberty University in Wheeling, W.Va.
"I wish them happiness and success in whatever they want to do," Bovaird said. "Success doesn't mean money or whatever… just happiness overall. I hope whatever they choose in life that they'll look back 20 years from now and be happy."
About the Contributor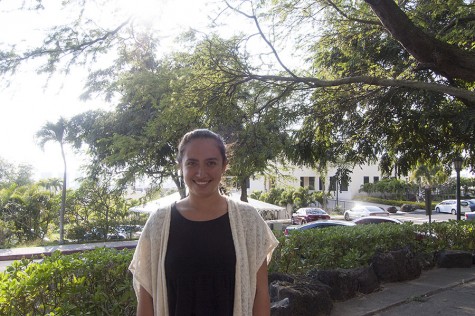 Melanie Schumilas, Staff Writer
Melanie Schumilas is a senior at Chaminade University from Toronto, Canada. Melanie has played on Chaminade's women's tennis team since transferring in...