Women's basketball notches 5th win, continues to improve
The Chaminade women's basketball team won a combined five games in three seasons from 2011 to 2014.
This season, the Lady Swords have already won five games.
With a 93-82 win over BYU-Hawaii on Thursday, the Lady Swords have earned their most wins in a season since the inaugural season in 2006-07 when they went 6-19. With a 5-12 overall record (5-8 in the PacWest Conference) with seven games left to play, Chaminade could set a school mark for victories.
"It definitely feels better to win more than one game a season," senior guard Glacen Florita said.
The five victories is a far cry from previous seasons for Chaminade. Last season, the team won three games. In 2011-12, the Lady Swords won one game. In 2012-13, they won one game.
It has been a rough three seasons for Florita, who said the Lady Swords' improvement is due to increased skill, athleticism and communication.
"I felt like nobody really believed we could win, even though we won those three games, it was dead," said sophomore guard Kristle Henry. "Some practices wasn't a good practice, it was just bad. But this year it's a lot better, we have people who know their roles and it all ties in and brings in the team together, if we are able to execute our roles."
Coach Bobby Keanini said that having more mature players on the team has been a big factor in the Lady Swords' impressive improvement.
For the 2013-14 season, the Lady Swords boasted a squad containing five freshmen, almost half of their 12-man roster. This season, there is only one freshman on the team.
"We have a fifth-year senior, a couple of juniors and sophomores," Keanini said. "They help develop (other players) as far as getting better, bigger, stronger, those kind of things."
Keanini said that having players who have been at Chaminade for multiple years helps unify his team in understanding what type of game plan they must implement in order to win as a smaller, less physical team.
Florita said her experiences with struggling Chaminade teams in the past has taught her better leadership skills, which helps her influence teammates to stay positive and calm when they are struggling.
Both Florita and Henry said the team chemistry has notably improved since last season.
"Since losing is so tough, that definitely puts a strain on everyone," Florita said. "But when we're winning, everything's just better. … A better attitude and a better environment for us to be in."
Keanini said he's happy to see their smiling faces after a rewarding win they worked hard for. He said he's noticed a substantial difference in his player's body language as they continue to gather wins.
Although the Lady Swords are pleased with their current season, they are still hungry to improve both their mental toughness and beginning each game with high energy.
"Energy is a big factor with us," Henry said. "In the first four minutes, it's a key factor to come out and play strong… get it right from the beginning."
Florita said slow starts have often contributed to losses this season. She said the first four minutes are crucial, and cannot be treated like a warm-up if the Lady Swords want to win more games.
The Lady Swords' close losses against tough opponents such as Cal Baptist, which is ranked second in the conference, demonstrates their fight. However, increased mental toughness against teams would have a major impact on the outcome of the game, Florita said.
"I think since we've been struggling the past few years we've never been in such close games where we need that mental strength," Florita said. "We need to train ourselves to be mentally tough in those situations so we don't just break down and lose."
Henry and Keanini both said a major team goal is to eventually make the PacWest Conference Tournament, which is comprised of the top six teams in the conference.
Henry said in the past Chaminade hasn't been known as a strong team, and opponents often approached the Lady Swords as a chance to pad their statistics and get an easy win. She said she's determined to prove that Chaminade can make it to the playoffs and compete at that top level.
Keanini said he believes a PacWest Tournament berth may sooner than most expect.
"We're still in the race now," Keanini said. "If we can put a couple more games together and (teams) on top knock themselves out, … our goals are still there, it never changes. We're hoping."
The Lady Swords face HPU on Sunday at Neil Blaisdell Center. Tipoff is at 1 p.m. Their next home game is Thursday, Feb. 12, against Dixie State at 5 p.m.
About the Contributor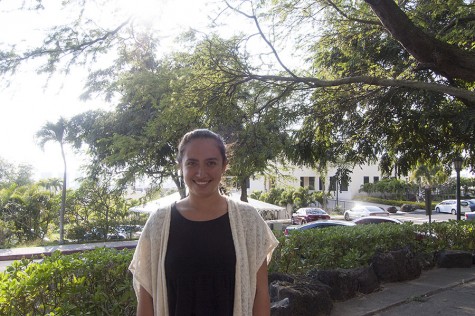 Melanie Schumilas, Staff Writer
Melanie Schumilas is a senior at Chaminade University from Toronto, Canada. Melanie has played on Chaminade's women's tennis team since transferring in...