Chaminade men's basketball victorious against UH-Hilo.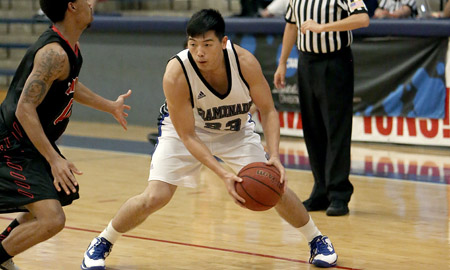 The Chaminade men's basketball team is back to the Division II basketball universe after a hop over to the Maui Invitational facing Pittsburgh, BYU, and Missouri. The Swords faced the UH-Hilo Vulcans in the first PacWest game of the season on Thursday night and won 94-89.
The beginning of the game started off slow for the Swords, falling behind 7-2 behind four quick points from defending PacWest player of the week junior Tre Johnson.
Johnson, through seven games, is averaging 21.6 points per game along with 6.9 rebounds per game. Going against the Swords, he accounted for 19 points in 37 minutes. Senior Joey Rodriguez led the Vulcans with 21 points.
Down five points, the Swords started hitting shots from everywhere. Sophomore guard Kiran Shastri drilled two NBA-range 3-pointers that started the Swords on a 10-0 run to go up by five at the 15-minute mark. Also helping matters was Silversword junior guard James Harper, who led the team with 23 points in 29 minutes of play.
"We just needed to work on boxing out and rebounding as a team," Harper said. "We got killed on the boards (in Maui), we decided to work on that and defensive intensity."
At the Maui Invitational, Harper contributed eight points and did not score a point against Pittsburgh. Harper brought himself back nailing five 3s. This performance for Harper brought back memories of last season's PacWest championship game, when Harper scored 31 points hitting nine 3s in the victory.
In the first half, The Swords got a double-digit lead with contributions from senior Frankie Eteauti in the low-post. He finished with 11 points. The Swords and Vulcans traded baskets and the Swords ended the half with a nine-point lead over the Vulcans.
The second half saw the Vulcans trying to mount a comeback with 13-0 run which included a SportsCenter top 10 worthy alley-oop by Johnson. With three minutes left in the game, the Vulcans were down by only three with a chance to tie the game. Senior guard Lee Bailey was fouled twice in a row and missed four straight free throws with the Vulcans only down five. Bailey was able to get the offensive rebound and was fouled again and finally hit two free throws to go back up by seven with 31 seconds left.
Bailey had 15 points and passed Rodney McCray for eighth place in Chaminade men's basketball all-time scoring list with 1,243 points.
After a made three by Hilo, a foul by Eteauti, two made free-throws, it was back to a three-point game with 15 seconds. On the inbound play, Chaminade junior forward Kevin Hu got a steal to seal the game after a game of keep-away to run out the clock.
"It feels great, I like wins no matter who they're against," head coach Eric Boviard said while laughing. "Five guys playing bad defense, all five guys not being, you know they look up and see the scoreboard and they see us up 18, and they think they can relax a little bit and next thing you know they hit a couple threes get a couple and-ones and it's a close game. So no matter what the score is, we gotta play the way we want to play and not worry about looking at the scoreboard."
Up next for the Swords is BYU-Hawaii on December 6 at 7:30 p.m. Last The Swords won at BYU-Hawaii 105-102 in overtime, the Seasiders won at Chaminade 99-98 in overtime a month later. At the PacWest tournament, Chaminade beat the Seasiders in the quarterfinals 90-85.
About the Contributor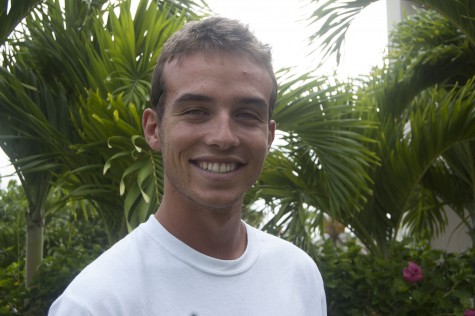 Ryan Look, Staff Writer
Ryan is a senior from Newport Beach, Calif.,  studying communications and broadcasting. Over the summer, Ryan was a lifeguard at Big Canyon Country Club...