CUH volleyball ends improved season against BYU-Hawaii
The Chaminade women's volleyball team ended the 2014 season with a loss to BYU-Hawaii 3-0 on November 15 at McCabe Gym. But it was the finale of a season that the Lady Swords can look back and see the improvements they made as the season progressed. The Seasiders came into the match ranked ninth nationally and were selected to the NCAA Division II tournament as a fifth-seed against fourth-seeded Central Washington.
The year for the Silverswords was a major improvement from the 2013 season, when the team only won 9 matches and finished 10th in the conference standings. In the 2011 season, the team was 2-21, only winning 13 sets and losing 67, 16 matches were by virtue of a three game sweep.
This season the Lady Swords won their first five matches of the year and beat the defending NCCAA champion Point Loma in five sets on October 17. The team also improved their number of wins to 12. This year the team had seven losses in five-set games against teams such as HPU and Dixie State, Chaminade was able to beat Dixie State in five sets back in 2012, but the Red Storm have not let the Swords repeat since then.
The three seniors honored at the season finale were Athena Maskerich, Darcie Horiuchi, and Ka Ua Cale. All three players have been with the team for the last four years.
Maskerich, this year, played in all 30 matches contributing an average of 3.06 digs per set, and serving up 27 aces.
"This year we had a lot more fight in us and I feel like this team has really come together and pulled out some great wins against Point Loma and various other teams," Maskerich said. "I think that this team really shows fight in every set that we play. For the beach season, I think I need to get more consistent in my serve-receive."
Cale played in 67 sets and recorded 214 assists and nine kills this season.
Horiuchi saw action in 70 sets contributing 40 digs and 12 service aces for the year.
This season's success can also be given to sophomore outside hitter Cassie Rushlow and sophomore middle blocker Maddy Barret, who averaged 3.04 and 1.99 kills per set respectively.
"Rankings wise we went up two spots, we're consistently improving although it's not as fast as we'd hope," Kabalis said. "They (the three seniors) have been fantastic, they also play a key roll in our offense, our defense, in our service passing, they are going to truly missed."
The Swords finished the year with an overall record of 12-18 and 5-15 against PacWest Conference opponents. Kabalis has already signed a new recruit for the class of 2015, middle blocker Terezie Cernosek from Santa Clarita, Calif., where she was named to the all-tournament teams in the Nike Tournament of Champions and the Beach City Tournament in her senior year.
"(Cernosek) is a gonna be another force at the net, 6-1, big block, long arms, very athletic, so we're excited." Kabalis said.
Spring beach volleyball season for the Lady Swords will begin in March.
About the Contributor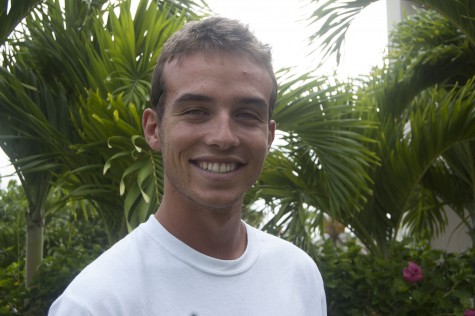 Ryan Look, Staff Writer
Ryan is a senior from Newport Beach, Calif.,  studying communications and broadcasting. Over the summer, Ryan was a lifeguard at Big Canyon Country Club...