Top Ten Influential Surfers of the Modern Era
Since its beginnings in the Polynesian Islands, surfing has become a sport is practiced internationally. In climates all around the world ranging from the tropical waters of the Hawaiian Islands to the frigid waters of Ireland and Canada, surfers are lured to the ocean hoping for big rides and incredible rushes of adrenaline. Many people surf in this day and age, and the sport is growing at an unprecedented rate. However, only a handful of legendary surfers have captured the attention of the current surfing generation as well as the next. Here is a list of the top ten influential surfers of the modern era.
1. John John Florence is a Hawaiian prodigy who grew up on the fabled North Shore of Oahu. At the age of 22, he is a super power to the current professional surfing tour. The oldest of three brothers, John grew up with the Bonzai Pipeline just beyond his backyard. There are no brakes for this young man as he continues to set the bar for professional performance surfing.
2. Kelly Slater it is no surprise that the 11-time world champion is on this list. Born in Coco Beach, Fla., Slater has been the most dominant competitive surfer of all time. He continues to captivate audiences of all ages with his acrobatics and superhuman balance in critical situations. At the age of 42, Slater shows no signs of slowing down, regularly beating competition half his age and younger.
3. Andy Irons was the Hawaiian powerhouse from the island of Kauai and the only real rival to the infamous Kelly Slater. A three-time World Champion, Irons was known for his "take no prisoners" attitude towards competitive surfing and his prowess when the waves were big and dangerous. Unfortunately his time was cut short, dying in Grapevine, Texas, in 2010. He will always be remembered as a legend as he single handedly set the standard for Hawaiian surfing.
4. Gabriel Medina, a 20-year-old from Brazil, is a force to be reckoned with, potentially the first Brazilian world champion. He is know for his insane aerial maneuvers and is building is reputation to be able to handle the big waves as well. Medina is on his way to surfing perfection and at such a young age, he has a long career ahead of him.
5. Dane Reynolds is a wonder child from Ventura, Calif. He is often hailed as the best free surfer of all time. While his competitive surfing has taken a backseat due to poor performances. He continues to wow his followers by releasing and editing his own mind-blowing surf videos.
6. Mick Fanning, The three-time World Champion from Snapper Rocks Australia, is known to his competitors as "white lightening" as his surfing is fast and powerful. He has proved himself many times over that he can handle himself when the waves become challenging.
7. Rob Machado, Living in San Diego and known for his rootsy, laid-back personality while simultaneous performing at surfing highest level. Machado competed on the World Tour for many years before concentrating his efforts on family and ocean preservation. He has style and grace when riding any waves, often making the art of surfing looks way too easy.
8. Taj Burrow has been on the competitive world tour for over a decade. This western Australian is known for his precise cutbacks and innovative aerial surfing; Burrow has the entire package to be the best surfer in the world but has not achieved the title yet. However, he continues to surf with rugged ambition and enthusiasm that is unmatched, he is known for being easy going and approachable.
9. Laird Hamilton, The Maui local has countless merits and has contributed many aspects to modern day surfing. The most prominent is tow-in surfing. This is where a jet ski is used to drag a surfer into waves that are too difficult or big to paddle into manually. He introduced a whole new dimension to the world of surfing and continues to ride the biggest waves all around the world.
10. Eddie Aikau is the most infamous of the Hawaiian big-wave legends, known for often being the only person surfing when the waves got extremely big and treacherous. Aikau inspires every generation of big waves surfers with the attitude that "Eddie would go," referring to Eddie's fearlessness in the terribly dangerous waters when others were often too scared to paddle out.
About the Contributor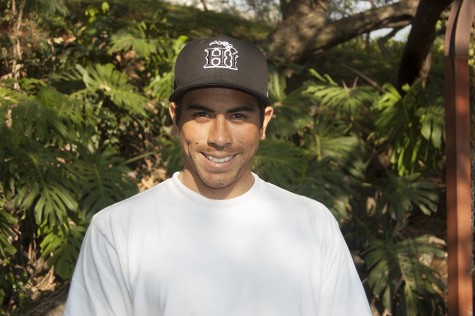 Peter Johnson, Staff Writer
Peter Johnson is a senior transfer student from a small quiet coastal town in California called Half Moon Bay located a half an hour south of San Francisco....