Chaminade women's volleyball ready to compete this season
The Chaminade women's volleyball team has started out strong this year with a record of 7-3 as of Sept. 13. And four of the seven wins have been through a three-game sweep.
Last season, it took the Swords 19 matches to get seven wins.
And they're doing it all this season without last year's star player, Swiss native Kim Spring, who did not return to school this semester.
"Our primary goal is to improve our record from last year (9-16 overall, 6-14 conference) and we want to finish above .500 this year," said Kahala Kabalis, head coach of the team. "More focus, more intensity, and more competitive play. We brought in new players to take care of the backcourt responsibility."
Kabalis has to find a way to replace Spring, who smashed 257 kills out of the team total of 1,067 kills. She started all 25 matches and was named most-outstanding volleyball player of the year at the end-of-the-year banquet.
New members of this year's team include Cassidy Acord, a freshman from San Antonio, Texas. Madalene Barrett is a transfer from Fullerton Junior College in California and has two years of eligibility left. Suncica Bakic transferred from Eastern Arizona College.
Waihilo Chartrand is a transfer from Eastern Arizona College and Bakic's teammate during her tenure with the Gila Monsters. Natasha Enos is a freshman from St. Francis School in Honolulu. Kira Long, from San Diego, played three years on the varsity team and was named all CIF Second team in her senior season. Rounding out the new players is freshman Catherine Thomason from Kentfield, Calif., where she lettered in varsity volleyball for four years at Marin Catholic School.
These newcomers for the team have already put up good numbers for the Swords in the first 10 games that they have played with few errors and team chemistry.
Bakic has 45 kills in 20 sets played and Thomason has 14 kills in 17 sets through the first 10 matches.
"It was a great way to start off the season," Kabalis said. "We know that in order to do well in conference we need to tighten things up. Playing three games in a row against Point Loma, Cal-Baptist, and Azusa Pacific, so we're trying to stay consistent and competitive."
In the first four games of the season at home, Chaminade showed early life in its style of play and its ability to click with each other. These opponents, however, did not show the talent of Hawaii Pacific and BYU-Hawaii, two local teams that have had history of winning with BYU-Hawaii reaching the NCAA championship match last year before falling to Concordia-St. Paul.
This years schedule takes the team on the road twice to Northern California and another time to face the Southern California teams and Dixie State.
The Swords' next home game is against the Hawaii Pacific University in McCabe Gym on Sept. 26.
About the Contributor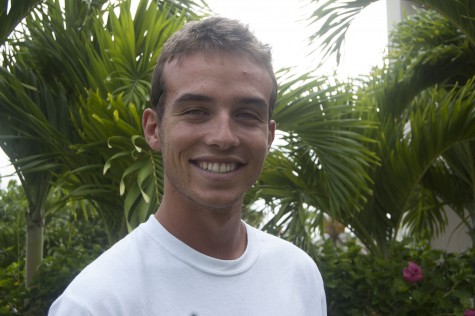 Ryan Look, Staff Writer
Ryan is a senior from Newport Beach, Calif.,  studying communications and broadcasting. Over the summer, Ryan was a lifeguard at Big Canyon Country Club...