CUH volleyball faces 'tough competition' in UH sand tourney
Chaminade's volleyball team was beaten by a series of University of Hawaii teams in the sand volleyball tournament held at Queens Beach via Waikiki on Saturday.
The tournament was played in matches of two-on-two action with competitors from UH who specialize in sand volleyball. The Silverswords were up against individuals who had been specifically trained on sand terrain year round while the CUH team's forte is indoors with just two spring practices a week on the beach.
"It's much harder to have one person next to you rather than five, like indoors," said Brenda Walker, 21, a sophomore from Kalihi majoring in Nursing. "There's a lot more communication that needs to go on. There's also having court awareness and trying to fight the sand as well. It's definitely a different environment."
The duel matches happened simultaneously with small breaks in between. Amongst the chaos each team of two had to cooperate and communicate with each other in order to cover the ground that more team members normally had.
The sand created an obstacle for movement and affected defense and offense with the less experienced sand volleyball players. The sunlight provided a hardship because of the amount of heat being delivered during the game.
"For each player it's different," said Reigna Johnson, 20, a sophomore from Chandler, Ariz., majoring in biology. "We have D's (defensive specialists) and then we have middle blockers. We weren't as smart with defensively digging or knowing the court as well."
The highlight of the series of games Saturday was when the CUH team featuring Athena Maskarich and Cassie Rushlow competed against UH's Sarah Mendoza and Sydney Shinn. The Silversword won their first game and were the only CUH team to force a match into a third and decisive game.
"It was a match of endurance," said Athena Maskarich, 20, a junior majoring in Criminal Justice from Redwood City, Calif. "We made crucial errors when the score was tight. They were able to push through on the tighter scores, and we were mentally not strong enough to overpower them when we were down."
With the hours that are given for sand training off-season during the spring, CUH's team will not be able to get more practice experience for the beach terrain.
"Playing UH-Manoa was a great opportunity to play some high-level sand games, and we were very fortunate," said head coach Kahala Kabalis of the CUH volleyball team. "The scores did not reflect the effort and competitiveness that the girls brought to the game today. We put up a good fight. We were able to experience some tough competition and our girls were able to make some great plays and great strides to show that we're capable of competing at that level."
About the Contributor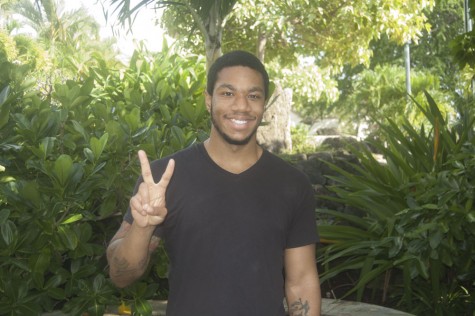 Winston Anderson, Staff Writer
Winston Anderson, a New York native, traveled across many states and waters with high hopes of studying Communications and Psychology in Honolulu, Hawaii,...