Kuany Kuany : Silversword superstar
Kuany Kuany has had one of the best freshman campaigns in recent Chaminade men's basketball history.
But Kuany's path to Chaminade hasn't been an easy one. It started war-torn South Sudan, traveled to Kenya, moved to Melbourne and eventually found its way to Oahu. This journey, however, has made the 6-foot-6 guard into one of the hardest-working, most-appreciative players that has worn the Chaminade uniform.
"He's a god-fearing, good Catholic kid and he's well rounded," said head coach Eric Bovaird of the Chaminade Silverswords. "One of the things I like most about him is that he appreciates things. He's grateful to have this situation and to have these teammates. I love coaching guys like that. He's special, and I'm glad I found him in Australia. He's one of my best recruits I've ever found."
Kuany has had a standout freshman season and is one of the favorites to be named the PacWest Conference's Freshman of the Year this week.
"In my eyes, he's the Freshman of the Year in the conference," said junior point guard Lee Bailey. "He's done things in the conference that no other freshman has been able to do double-double-wise and efficiency-wise. If you ask me, I think he's the best freshman in the conference hands down."
While Kuany continues to shine on and off the court, his life leading up to this point hasn't been an easy one. With an extensive travel history from continent to continent, he has endured many hardships along his journey. With high hopes of greater possibilities, his family has moved from Africa to Australia. For scholastic achievement and basketball, Kuany then found himself at Chaminade University of Hawaii with a scholarship.
"Some guys in this college basketball have a sense of entitlement about things," said Bovaird. "He's grateful to have this situation and have these teammates and to be in Hawaii. If you knew how he grew up and where he grew up, he's the type of kid who appreciates a new pair of shoes or meals in the cafeteria. I love coaching guys like that."
Kuany is the eldest of seven siblings with two brothers and four sisters. Kuany is a common name used in the Aweil tribe in Northern Bahr El Ghazal south Sudan, which Kuany happens to be a part of.
Although his family was originally from South Sudan, Kuany was born in Kenya. The northern, Muslim half of Sudan was at war with the southern, Christian and Catholic half over control of the country. The war lasted for 20 years and was getting progressively worse, so Kuany's parents decided to move to Kenya for a safer location for him to be born and raised in.
When he was 9, the family moved to Melbourne, Australia, for the opportunities for education and jobs.
"Back in Kenya, you lived in the house with so many people because of the war," Kuany said. "Family members would keep coming, and you didn't know when they would come. Sometimes the house would be crowded and there wasn't enough food so the switch (to Australia) was really good. I really liked it because I got to learn a lot and there were many opportunities."
In Melbourne, he began to play basketball at the local park with family and friends. His cousin was a part of a club and told him to try out for a team. He enjoyed it and eventually became serious about it and played for many teams and continued to improve his skills.
"A lot of kids that came from South Sudan, when they went to Australia, didn't use their opportunities well," Kuany said. "I guess my family is very happy and supportive because I took advantage of the opportunities I had there."
He then joined the Australian Basketball Digest Program that was run by former NBA player Sedale Threatt, who played in the NBA for 15 years, including time with the Los Angeles Lakers alongside Magic Johnson, and won two championships. Threatt liked the way Kuany played, the Chaminade freshman said, and saw untapped potential in the Sudanese teenager and took him under his wing to coach him.
"My coach (Threatt) told me to go somewhere that I can play," Kuany said.
"He told me that his dad told him as a kid that you should go somewhere that you would play and develop rather than go sit for a year or two. So one of the main reasons I chose Chaminade is because I saw an opportunity that if I keep working hard enough that I would get playing time straight away."
CUH's Bovaird contacted Kuany daily to persuade him to attend school at Chaminade University of Honolulu. After describing the positives of the Hawaii environment, the Maui Invitational and scholarships, he convinced Kuany to come to Oahu for school and to play for the Silverswords.
"He's an ultimate kid to coach," Bovaird said. "He's a coach's dream because whatever I tell him, he tries to go out and do without question or reservation. He wants to become a great basketball player. He's got the drive and ambition, he's got the best attitude of any guy I've ever coached, and he's just a phenomenal human being. He's got the potential to be something really special."
Kuany's athletic record speaks for itself. He is averaging 14 points and 8.1 rebounds per game. He just posted career highs with 33 points and 15 rebounds in a home loss to BYU-Hawaii.
"Not only can he shoot and handle the ball, he's the best rebounder I've ever had," Bovaird said.
For his efforts in the last week of the regular season, he earned the PacWest Player of the Week award. He has also collected four Freshman of the Week awards and one Defender of the week award.
"He's a real hard worker and has been an amazing asset to the team this year," Bailey said. "He's doing everything we need, rebounding and scoring, pushing the ball and being an amazing team player. He's done a little bit of everything for us this year. He's really versatile."
Kuany and the rest of the Chaminade men's basketball team are in San Diego this week to compete in the PacWest Conference Tournament. The Swords take on BYU-Hawaii on Thursday in the quarterfinals.
About the Contributor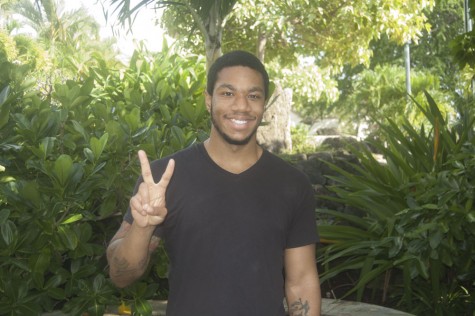 Winston Anderson, Staff Writer
Winston Anderson, a New York native, traveled across many states and waters with high hopes of studying Communications and Psychology in Honolulu, Hawaii,...