Swords prep for the final two games of the season
The Chaminade men's basketball team has been putting up a fight this season. Two home games remain for the Silverswords that will affect the team's position for the upcoming Pacific West Basketball Tournament, which begins on March 6.
Lately, the squad had a rough trip from the past off-island games against Point Loma, eighth-ranked California Baptist University, and Dixie State. But Chaminade has rebounded with back-to-back home wins over Notre Dame De Namur and Holy Names to jump to fourth in the PacWest standings with a 15-11 overall mark and a 12-6 conference record.
"We've had stretches where we looked really good when we're at full strength," head coach Eric Bovaird said. "This past road trip was a rough one for us."
The struggle was real for the Silverswords because guards Lee Bailey and Kiran Shastri were unable to go with the rest of the team due to disciplinary issues. However, Bailey did played against Dixie State, while Shastri was left behind.
Without those two, it was newcomer Kuany Kuany and veteran Tyree Harrison who led the Silverswords in the 83-62 loss to Point Loma. Kuany had to take over Bailey's starting role and had 15 points, four assists and seven rebounds in his 38 minutes. As for Harrison, the forward scored 16 points, which tied his career-high, made six steals and grabbed eight rebounds in his 33 minutes.
While Bailey wasn't with the team, Kuany had to call the shots.
"The coach told me to place his role. Seemed like a big role that I had to fill, so I decide to step up," said Kuany, who is averaging 13 points per game. "Not just by providing individual stats, but also playing as a team member and being a leader."
Chaminade was at full strength with all its players in the last two games and is hoping to finish strong in the final two games of the season: BYU-Hawaii on Feb. 27 and Fresno Pacific on March 1. Both games will be at 7:30 p.m. at McCabe Gym.
With Shashtri coming off the bench, he averaged 23 points in the two wins. He nailed 11 3-pointers and was a big reason for Chaminade's two-game winning streak. For his efforts, he was named the PacWest's Freshman of the Week.
After suffering those three tough losses on the road, Chaminade got its confidence back with two big victories by a combined 37 points. Also, the 101 points the Swords put up against Holy Names is the second-most points they've scored this season.
"Our defense has been a work-in-progress," Bailey said. "We're getting better every game, but we still got work to do. … Offensively we've been pretty strong throughout the season. We just got to stay consistent throughout games and not go on any lows."
The Silverswords will play a BYU-Hawaii team that they have already beaten with a 105-102 win in overtime on Jan. 14. In that game, Bailey scored a career-high 32 points and made the game-winning 3-pointer with 2.1 seconds left.
CUH pulled away from Fresno Pacific in its 83-78 win on Jan. 20.
These two games will be the final home appearances for seniors Bailey, Christophe Varidel (who has not played since the Maui Invitational), Harrison and Rhys Murphy. Bailey, Harrison and Murphy are key players on this year's team, contributing 30.9 points total.
About the Contributor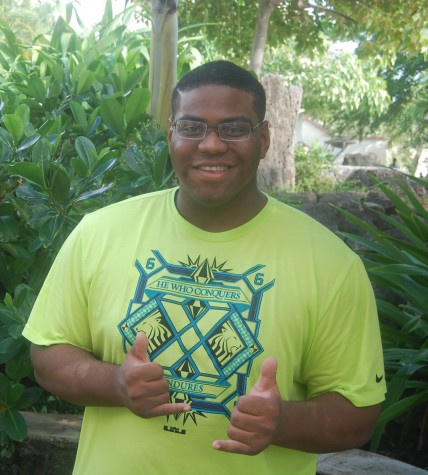 Dray Thompson, Staff Writer
Dray was born and raised from the island of Guam. He is attending his junior year at Chaminade University and pursuing a bachelor's degree in Communication/Broadcasting....