CUH women's softball is ready to get back on the field
This year's Chaminade women's softball team is bigger than any squad before.
With a total of 22 players, head coach Kent Yamaguchi has more players than at any other points in his 13 seasons here. The Swords are young but filled with talent, Yamaguchi said, and coming off their first winning season, they are anxious to finally get back on the field.
"The team's hungry and dying to play somebody," Yamaguchi said.
The team had a soggy start for their first three games due to weather conditions. The original season-opening games against Western Washington, BYU-Hawaii and Hawaii Pacific University were all rained out, but the Swords will face BYU-Hawaii – weather permitting – in a double-header this Saturday at Central Oahu Regional Park in Waipio.
CUH will be facing this season without five key contributors from last season's team that won a school-record 25 games. Kori Berinobis, an infielder, started all four years for CUH. Berinobis received all-PacWest third team honors, and finished second on the team in batting average at .329. Tumamaopavaiai Enos, was a pitcher/infielder, and received all-PacWest Second Team honors. Enos also had a .480 slugging percentage, which was second on the team. Rayna Strom-Okimoto, another infielder, was awarded all-PacWest Second Team honors. Strom-Okimoto was named Second Team shortstop and first team utility in pervious years. She led the Swords and the conference with a batting average of .679. Strom-Okimoto was named Chaminade's Female Athlete of the Year in her 2012-2013 season.
With a direct urgency to fill three infield positions, Yamaguchi stacked the team with talented new freshman and two Division I transfers from University of Hawaii (Ciana Russ) and the other from Pacific (Kaleen Terayama).
This year's focus is on the pitchers. Yamaguchi wants them to take ownership of the circle on the field and step up to lead the team. The game for Chaminade depends heavily on their pitchers. This season, returning juniors Brett Aspel and Kaitlyn Watanabe will lead the team. Last season, Aspel went 14-11 and one save in 36 games as pitcher. Aspel had more wins than any other CUH player in more than a decade. Watanabe was named all-PacWest Third Team last season, as well as the PacWest All-academic team. She was also the team's designated hitter with a .231 batting average.
Captain Elia Lizarraga, a junior outfielder is "good as ever," according to Yamaguchi. Lizarraga enjoys the game, she plays with passion, she has fun, she's relaxed and looks like she's enjoying it, describes the teams head coach.
"We pretty much returned a lot of people last year and we gained pretty strong hitters so I feel like we should do better, and I really want to do better," Lizarraga said. "I feel like we can, and we're a pretty close team."
Chaminade will face tough competition this season with new teams in the PacWest conference. With 14 returning players, Chaminade women's softball is working hard to keep the quality up there, according to Yamaguchi.
"I told the team many times, I didn't think it's the quantity but the quality of practice," Yamaguchi said.
This season women's softball is looking forward to a 47-game season, with 27 of their games being here on Oahu. Yamaguchi hopes to make up the game against Western Washington, (which was rained out on Feb. 4), when they go on the road. A win against Western Washington, being that they're in the same region, would give Chaminade a Division II opponent and a West Region opponent.
"Anything could happen," Yamaguchi said. I'm definitely not over confident, and I'm definitely not so sure that we're going to win because we're going to have to play every game like it's our most important game of the season."
About the Contributor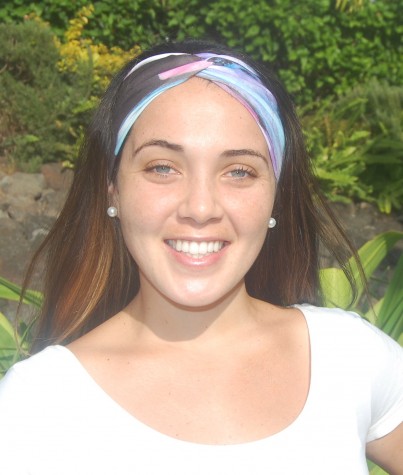 Teagan Waialeale, Staff Writer
Teagan is from the Garden Island of Kaua'i. She has lived on Oahu since 2006. Now a senior, Teagan is finishing her bachelor's degree in Communication...