Lady Swords capture overtime thriller
The Chaminade women's basketball team opened up conference play with a bang getting a win in an overtime thriller against the UH-Hilo Vulcans with a final score of 73-69.
The Lady Swords (1-4 overall, 1-0 conference) were able to overcome an early 16-point deficit in order to get their first win of the season. After the Vulcans went up 16 in the first nine minutes, the Lady Swords were able to put together a 17-3 run, going into halftime only down seven with a score of 36-29.
Starting the second half with a 9-2 run, the Lady Swords quickly tied the game up at 38-38 early in the second half. The two teams would battle evenly in the second half, leading to multiple lead changes and thanks to a lay up by Chaminade senior gaurd Glacen Florita with only 47 seconds left, the game tied at 64 to send the game into overtime.
In overtime, after trading a pair of baskets sophomore Shana Kawakami gave the Lady Swords the go-ahead basket with 39 seconds left. After a solid defensive stop, freshman Kristle Henry was able to ice the game with a pair of free throws.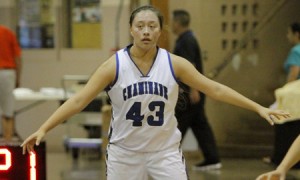 Freshman Lilia Maio lead the Lady Swords in scoring producing a career-high 19 points along with nine rebounds. Henry also accomplished her career-high as a Lady Sword with 12 points.
For the first time since their last win on Dec. 31, 2012, the Lady Swords were able to outrebound their opponent pulling down 53 to Hilo's 47. The 53 rebounds is a school record for women's basketball. Florita had a career-high in rebounds, snatching down 13, despite standing just 5-foot-2.
"The women work hard but they're beginning to understand the level of play and what it really takes to play at this level," said head coach Bobby Keanini when asked about the win. "Coach Fukuhara (assistant coach) implemented a speed, quickness, and agility workout with conditioning, so as the game goes along we get stronger."
This win snapped a 21-game losing streak also dating back to Dec. 31, 2012 to Holy Names University.
The Lady Swords next game is this Saturday Dec. 7 at 5 p.m. against Hawai'i Pacific University at McCabe Gym. HPU is 2-1 on the year and 1-0 in conference, also possesses a win over UH-Hilo (70-62). HPU is lead by senior forward Skye Savini averaging 20.3 points and 7 rebounds on the year.
"We have to keep boxing out and rebounding. If we win rebounding we can win the game," said junior Hanna Curtius. "The battle will be inside. I think our bigs will give HPU's bigs a problem in the fact that our bigs can run the floor and our 3,4 forwards right now are interchangeable, which will cause HPU's forwards and center to come out. We have shooters everywhere we just have to put the ball in the basket. The match up in the 4/5 positions will be quit the mix up. I am excited to see how it all pans out."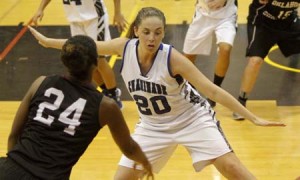 "The one thing Chaminade women's basketball doesn't have to worry about is playing hard. We need to be able to execute and do the right things, limit turnovers and make easy buckets. Lastly we have to believe in ourselves to win because we are more than capable of winning," said Curtius.
About the Contributor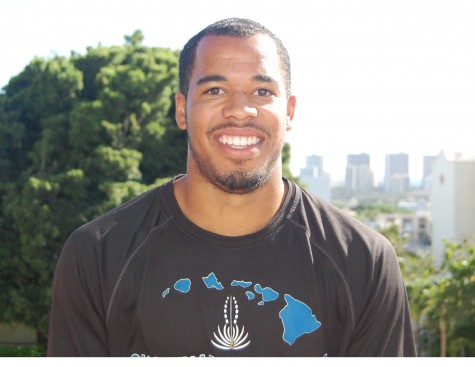 Lee Bailey, Staff Writer
Lee is a junior Communications-Marketing major at Chaminade University from West Bloomfield, Mich. He is a third-year player for Chaminade's basketball...