Women's volleyball season wrap-up
Chaminade's womens volleyball team had a season full of ups and downs showing bright spots of what is to come for the Lady Swords. The team finished with an overall record of 9-16 and 6-14 in PacWest conference play putting them at an 11th place finish out of 13 schools.
The bright spot of the season for the Lady Swords was their four-game winning streak toward the end of the season. This was the longest win streak for the women's volleyball team since 2009. During this winning streak, Chaminade also knocked off Division II nationally ranked opponent Fresno Pacific, who at the time was 23rd in the country.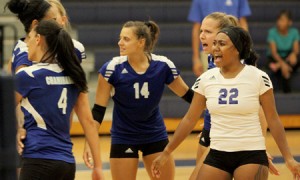 "Overall I feel like we became a stronger team mentally," said (sophomore middle blocker) Reigna Johnson "We did some great things, and even though we didn't finish as we wanted overall we've improved our play significantly. We definitely raised the bar on what is expected for our team."
During the four-game streak two Lady Swords got PacWest conference honors for the time all season. First was sophomore libero Brenda Walker who won Defender of the Week marking 43 total digs in only two games. Sophomore middle blocker Reigna Johnson was named to the PacWest's final 5 for matches played between Oct. 28 and Nov. 3. During that time she had the third-highest hitting percentage in the PacWest with 21 kills on 39 swings.
The Lady Swords wrapped up their season last Saturday against UH-Hilo, and the seniors Crystal Powell, Daniella Montoya, and Kapiolani Rapoza went out with pride. Powell had a team-high 10 kills, Montoya had a double-double tallying 18 assists and 15 digs, while Rapoza had 6 kills and 3 blocks in their final match.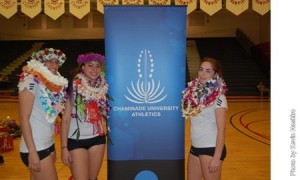 "Well it was a bit of a roller coaster," said Montoya when asked about her senior season. "We didn't finish as strong as we wanted or as strong as I would've liked, but I think I made the best of it. My teammates made it good for me. They always were there to support and motivate. Having a good time with my teammates made it all worth it."
It is because of that team chemistry that even with the loss of these three seniors the Lady Swords have a lot to look forward to next year. They return 19 of its 22 current players, which is a great turnover of players from one year to another.
"We have to remain diligent in playing and staying in shape." Said Johnson. "Take advantage of this time to get better in every way. Work out, stay healthy, and touch (the) ball as often as possible."
About the Contributor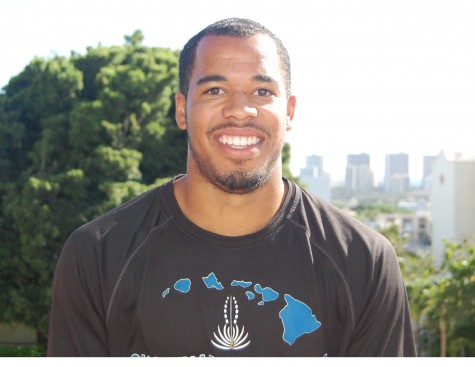 Lee Bailey, Staff Writer
Lee is a junior Communications-Marketing major at Chaminade University from West Bloomfield, Mich. He is a third-year player for Chaminade's basketball...