In the upcoming 2013-14 basketball season the Chaminade women's basketball team is looking forward to making a push to become a competitive team in the Pacific West Conference. This change will come in a large part due to the bigger role of returners and the many new faces that the Lady Swords have to offer this year.
Over the last three seasons the Lady Swords have struggled composing an overall record of 3-67 since 2010-11.  What this does mean for the Lady Swords is that there is nowhere for the team to go but up.  That positive attitude was the anchor of a tough preseason of practices and conditioning that has the ladies ready to make a push for one of the best seasons in Chaminade women's basketball history.
The Lady Swords have six new bodies on a 13-person team, which pretty normal, but the new players provide something that the team has been lacking year after year, which is size. Some of the Freshmen coming in that the team is looking to have an impact is Carissa McBride and Lilia Maio, they will also be the two tallest women on the team. Having taller women on the team puts the Lady Swords in a position to become more competitive especially since they were outrebounded every game last year except for the one game that they won. They averaged a margin of -13.2 boards per game.
"We've got a lot of young talent." said second year assistant coach Robbie Fukuhara. "Hopefully we can put it all together, and if we can that will definitely lead to us getting some Ws (wins). We need them (the younger players) to play and help us out right away, we're depending on them to score, so they'll be in the mix right away."
The returning players feel that there is a new energy about the team this year and his been since day one. With more competitive practices, they feel that the preparation is uncomparable to last year, leading to the team going 1-22.
"I'm looking forward to a new season and this new team," said returning starter, junior guard Hannah Curtis, "We are going to be more competitive this year I think in our conference as well as win a couple more games."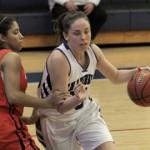 Despite the fact that the Lady Swords lost their four top scorers and four of the five top rebounders. Curtis, one of the few upperclassmen and returning starters on the team, brings a positive attitude and leadership that is a strong anchor to a positive season.
"We need to have the mentality that we have nothing to lose but also that we have to work harder and fight harder because nothing is given," Curtis said. "And as a new team, we need to be able to work together as well as be able to stay together when things get tough. It's a long season, and we need to take each game one at time and stay healthy."
The Lady Swords kick off their season on November 17, against University of Alaska Fairbanks.