Seniors draw volleyball careers to a close
Crystal Powell, Kapiolani Rapoza and Danielle Montoya, three seniors from the Chaminade women's volleyball team, will draw their athletic careers to a close this weekend.
On Saturday, Nov. 16, at 7 p.m., the auditorium lights of the McCabe Gym will shine on these athletes one last time as the Silverswords (9-15 overall) play the University of Hawaii at Hilo for their final game.
Powell, Rapoza and Montoya are all graduating seniors who have cherished their time while playing volleyball at Chaminade University.
"All three have demonstrated a leadership role," said Kahala Kabalis, who is the coach for the women's volleyball team at Chaminade. "They've all been key players for the team."
The three players have had their share of ups and downs during their collegiate athletic careers.
"Transferring from New Mexico to Hawaii was really hard at first, but the opportunity has been great," said Montoya, who grew up in New Mexico and is a setter and captain of the team. "I've been blessed with awesome teammates and an amazing experience."
Rapoza, a 5-foot-8 outside hitter from Kailua, said that she faced difficulties during her freshman and sophomore years, while Powell said that she did not have that many hardships to begin with.
Kabalis added that each girl improved in one way or another while being on the team.
Rapoza slammed 18 kills during the Aug. 31 match against University of Alaska at Anchorage, which proved to be her personal best. Montoya leads the team with assists this season, and the 5-10 Powell slammed 11 kills in the straight-set win over Notre Dame on Nov. 2.
"They've improved personally," Kabalis said. "Kapiolani has become a go-to hitter. Danielle has really improved on defense and leadership, and she does well academically. Crystal has become more versatile as an outside hitter, so they've all become key players for the team."
The team has recently returned from playing matches in Utah and California against Dixie State University, Point Loma Nazarene University and Azusa Pacific University. Although the team lost all three matches, the senior players have high hopes for the upcoming match against UH-Hilo.
"We're going to do good, and we hope to bring back the chemistry that we had before the trip," said Rapoza of the team's four-match winning streak at home, including a five-set thriller over 23rd-ranked Fresno Pacific on Oct. 25. "We just have to make sure that we're mutually focused."
Saturday also marks the women's senior night, which gives them a sentimental feeling about marking the end of their volleyball days.
"I'm really excited, but sad that our collegiate careers are coming to an end," said Powell, who is the outside hitter for the team. "I'm gonna miss it. I'm gonna miss the girls, no doubt."
Montoya, who has been on the team for two years, agreed that she would miss all the memories she made during her brief time on the team.
"It's really bittersweet," said Montoya. "It's the last time I'm going to be playing as a collegiate athlete. But you know, this just shows that you need to move on."
About the Contributor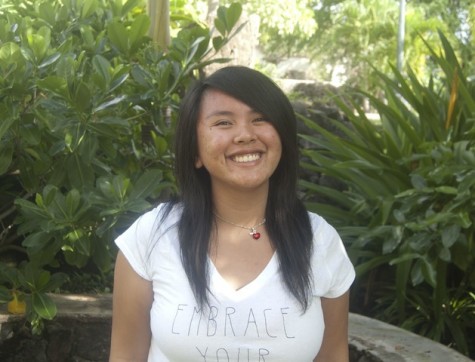 Vina Cristobal, Staff Writer
Vina Cristobal is a junior who is majoring in Communications (Mass Media). This is her second semester as a staff writer for the Silversword.  In her...