Silverswords men's basketball team prepares for this upcoming season
The Chaminade men's basketball team may have 11 new faces on the roster this year, a significant turnover from last season's 19-11 squad that beat Division I Texas in the Maui Invitational and reached the NCAA Tournament's West Regional.
Despite all these new faces, third-year coach Eric Bovaird feels ecstatic about his team. The 11 newcomers are a mixture of Division I transfers, juniors college transfers and high school freshmen.
"I feel really happy about this year's roster," he said. "They're working really hard, and I know they're anxious to play against somebody other than themselves."
The Silverswords' season will start on Friday, Nov. 8, against Western Oregon University at 7:30 p.m. in McCabe Gym.
"I'm expecting big things," said junior guard Lee Bailey, who is a two-year starter. "We've got a lot of transfers and young guys. But I think if we can get our chemistry together, we can definitely make a move and get far this year."
Bailey and Rhys Murphy are two of the key returners for the Silverswords.
Bailey averaged 11.1 points per game last season, third on the team, and started all 30 games at point guard. He's been hurt this preseason with a left ankle sprain but he said he expects to be playing in the opener.
Before his season-ending foot injury in early January, Murphy, a 6-foot-7 forward, played the first 10 games of the season. In his debut, the Aussie scored 22 points against St. Martin (Nov. 9), and he grabbed nine rebounds when he playing against Western Washington University (Nov. 14).
Those two will be relied upon to be the healthiest and most consistent players on this year's team. Bailey said that freshmen guard Kuany Kuany and guard Kiran Shastri and Cal State Northridge transfer forward Frankie Eteuati, 6-10, will be the newcomers to watch out for.
The players are talented, but the big key will be how well they put it together on the court.
"The chemistry is really important to make everything happen, to get the practices going very well every single day," Murphy said. "It helps on the court. Trying offense, getting set into defense and things like that. This year is looking good. We got an opportunity to do something."
"Just experience and playing together," Bailey said." A lot of teams have a lot more experience than us," Bailey said. "They have guys that have been playing together for two to three years, and we're all still coming together."
Chaminade's schedule will once again be tough. After the first two games, the Silverswords will have a two-week layoff before heading to Maui for the EA Sports Maui Invitational. They will face Division I Baylor in the first game (4:30 p.m.). The Bears won the postseason NIT last March and are ranked 25th in the first preseason poll this year.
It is a tough matchup to deal with for Chaminade but one that the team welcomes.
"We don't have any cupcakes on our schedule," he said.
Practice makes perfect in order for the chemistry to flourish from the Silverswords.
"I think it's pretty good," Bailey said of the team chemistry. "It's definitely getting better ever practice. It just comes with times, those things that don't happen overnight. But it's definitely improving every day. I like what I'm seeing."
About the Contributor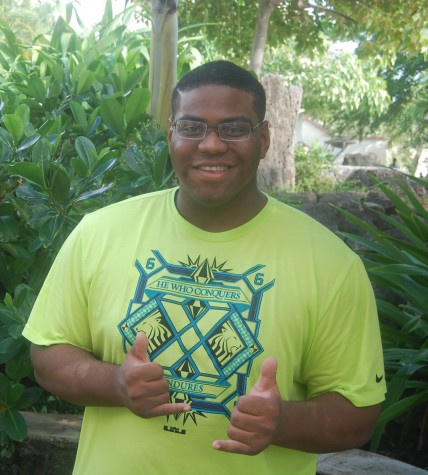 Dray Thompson, Staff Writer
Dray was born and raised from the island of Guam. He is attending his junior year at Chaminade University and pursuing a bachelor's degree in Communication/Broadcasting....