Top 10: Sports Chaminade should have
After 58 years of existence, Chaminade still has seven intercollegiate sports in the athletic department. Because of it, this is another reason why Chaminade is limited. Basketball, soccer and cross-country are for both men and women.  There's a golf team only for men. Volleyball, softball, and tennis are only for women.  Here are the top 10 sports that I think Chaminade should have.
10. Racquetball
It's like tennis and badminton. Instead of using a net, a wall is used. Not letting the ball hit the floor after the serve is the objective to score. Plus you get to wear safety glasses while playing. The ball itself measures two inches that means it's going to bounce and zing fast depending how hard the server will strike.
9. Wresting
It's one of sports that stands out from rest. Who doesn't want to see two people go at it each other in semi-combat. A wrester pins and holds down other to the ground while he struggles to get up.
8. Men's Tennis
Why not have one? The women's tennis team gets to have all the fun, all with their sporty uniform, while swinging a racket so they can hit a yellowish, fuzzy green ball. It's a good way to tone out your shoulders, build up the reaction span and endurance of the body.
7. Swimming
We are living on an island, and Chaminade doesn't have at least a swim club. The University of Hawaii wouldn't mind of competing against us. The Rainbow Warriors even have a diving team. Sure we don't have a swimming pool, but come on, we could use UH's pool and compete with them and other swimming teams in the NCAA.
6. Paddling
UH Hilo has a canoe club. There could be a tournament against them and the rest of the O'ahu Hawaiian Canoe Racing Association. Over 3000 paddlers are apart of the association.
5. Men's Volleyball
I don't see a reason why not. A men's volleyball team for Chaminade would give even more student support of the sport itself. It would be nice to come out, support and cheer on both of teams.
4. Baseball
There's just a softball team. Why the heck does the women teams get to have all the fun? There are plenty of leagues around the island. It's one of the sports people in O`ahu and the rest of the Hawaii play.  Even UH and HPU have teams to compete against the others in the mainland.
3. Lacrosse
This sport is slowly gaining popularity in Hawaii. You have a ball, which you catch with a lacrosse stick. To pass the ball, you use the stick to launch it forward. The sport has a fusion of hockey and soccer.
2. Football
Same reason as number two. The UH football team should challenge more local teams besides the teams at the west coast. The silversword football club has tall, built and fast guys. If they challenged against the UH team, it would be a game worth watching.
1. Rugby
Rugby is like football. Except you have to throw the ball backwards, and when players tackle each other, there is no body armor to wear. There's already a club that can play this sport well. Even students from UH come over and scrimmage. There is a flag version of the sport, and a touch version.
About the Contributor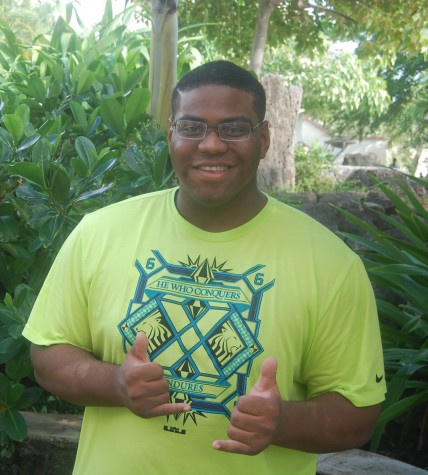 Dray Thompson, Staff Writer
Dray was born and raised from the island of Guam. He is attending his junior year at Chaminade University and pursuing a bachelor's degree in Communication/Broadcasting....