Swords to face BYU-Hawaii, HPU this week
The Chaminade women's volleyball team will be facing Brigham Young University-Hawaii on Sept. 20 and Hawaii Pacific University on Sept. 21.
The last time the Swords had won a match against BYU-Hawaii was Nov. 6, 2009, and they have yet to beat them in six matches since then. They had also lost two of their matches last season against HPU.
"We can only win. I feel like we cannot lose, because if we lose it's what everyone expects," said Kim Spring, a sophomore outside hitter.
Spring said she is nervous but confident about Chaminade's matches against BYU–Hawaii (5-0) and HPU (6-2). She thinks that the Swords (3-2) have a better team than last year, because everyone has gained experience and that new freshmen Ku'ulei Lynch, Kaya Chong, Cassie Rushlow and Leimana Kane play well. Spring believes that with the improved dynamics, the team can get a win against HPU. However, she feels that they have a chance at winning against BYU-Hawaii,the team picked to win the Pacific West Conference in the preseason, if the team is at the top of its game.
Crystal Powell, a senior outside hitter, feels excited to be back on the court and working hard in her final season as a Silversword. She will be contributing to the team by being a source of positive energy on and off the court, making smart decisions and putting away the balls that are given to her.
"Anything to help the team win those games," Powell said.
Powell expressed how she wants to "leave it all on the court" her senior year, to have no regrets and to give it her all no matter what situation arises.
"I want to leave it all on the court, give it all that we got and walk away saying 'Hey I did a great job. We did all that we can to be successful.' And just leaving it all out there," Powell said.
Following the mindset of her teammate, Spring also hopes to play smarter and more clear-minded this season. She also wants to be calm not just for herself, but so that the freshmen players on the court will be less nervous.
The Swords have started off the 2013 season with the record at 3-2. The team has beaten University of Alaska Fairbanks, Fort Hayes State University and Lewis University but lost to University of Alaska Anchorage and Chico State University. Coach Kahala Kalabis expressed that as a team, they only had a little over a week and half to practice for the first match and weren't as prepared as they would have hoped.
"We do feel, however, now that we've gotten into the rhythm of practice, we're really putting out components together to make sure that we're a strong force in the Pacific West Conference" Kalabis said.
About the Contributor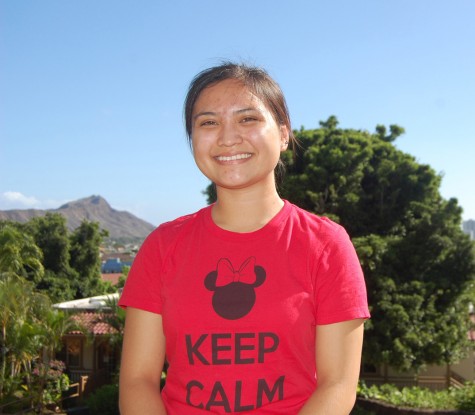 Alanah Torre, Staff Writer
Alanah Torre was born and raised on the island of Guam. She graduated from Academy of Our Lady of Guam High School. She is currently a junior at Chaminade...