College football is back
Week one in college football proved to be everything that it was hyped up to be with the loving fans, powerhouse teams and surprising upsets. Although many top 15 teams handled their business the big news from Week One came from upsets of FCS (Football Championship Subdivision) teams knocking off larger school that had hopes of big seasons.
The first upset of the year came from Towson University not only upsetting the UConn Huskies by man-handling them with a score of 30-18. The North Dakota State Bison traveled down to Kansas State and squeezed out a victory 24-21. A huge surprise came Saturday when McNeese State demolished South Florida in a 32-point win 53-21. Easily the most noted FCS upset came in the Eastern Washington vs. Oregon State. Coming into the game Oregon State was ranked No. 25 in the country. Eastern Washington came out with flurry, leading at halftime with a score of 29-17. Despite Oregon State making a comeback in the second half, Eastern Washington was able to pull out the victory with a score of 49-46. It is great to see smaller schools showing their strength against the more publicized football powerhouses. These upsets keep an edge to each game because no matter the matchup no team can be looked past these days.
Unfortunately most FCS teams did not have a fairy tale like the ones previously mentioned. In fact, most FCS vs. FBS had scores that were extremely ugly. For example, Baylor destroyed Wofford University with a score of 69-3. Nicholas State fell to Oregon 66-3, Austin Peay got stomped by Tennessee 45-0, and Murray State lost to Missouri 58-14. As a powerhouse school it is extremely tough playing a small school because it is almost a lose-lose situation. If you lose it's horrible and immediate changes take place from the coaching staff to lineup changes. If you win its either what you are supposed to do or the win was not by a large enough margin. Regardless these FBS schools showed that they are still dominant in the college football world.
All of the top 25 teams came out with a strong showing in week one, all of them coming out with wins unless they played against another ranked opponent. The highlight games of the week came from the top 25 matchups, first No. 12 LSU vs. No. 20 TCU. LSU jumped out to a 16-10 lead by halftime, but TCU never went away two second half touchdowns kept them in the grasp of victory the entire game. LSU's Odell Beckham may have clinched victory for the Tigers with a 75-yard kick return leading to a 20-yard touchdown pass with a little over 6 minutes left leading to the final score 37-27 LSU. LSU is looking to build on their success from previous years, always coming a game or two short of winning national championship. Wins like these are a key to building that rhythm and confidence it takes to win a national championship.
The most-viewed college game of the week was the first top 10 matchup of the season NO. 5 Georgia Bulldogs vs. No. 8 Clemson Tigers. This game was nothing less than a shootout between team who year in and year out have bowl game expectations. From the start each team showed that they were ready for the season. After three first half touchdowns by each team the game was tied 21-21 at halftime and it was looking like a game where the last team to score would win. Each team started the third quarter with touchdowns, but Clemson would hit a field goal to put them up 31-28 going into the fourth. Clemson would score again in the fourth quarter to go up 38-28. The Bulldogs would score again with about one minute left but the field goal in the third quarter proved to be the deciding factor for the Tigers, ending the game38-35 Tigers.
Hawaii's own UH Warriors fell to No. 24 USC Trojans with a final score of 30-13. Although the score doesn't look great, UH didn't have a bad showing and the game was a definite improvement from the slaughter they took last year from a USC team that was at the time ranked No. 1 in the country 49-10. They showed a lot of promise on both sides of the ball that should be a solid foundation for them to grow and build on for the remainder of the season.
You can't talk about college football without bring up reigning Heisman Trophy winner Johnny Manziel. With all of the chaos going on off the field this off-season many people wondered whether the sophomore quarterback's game would be affected on the field. Having to sit out the first half because of suspension, Manziel came in the game in the second half and seemed to pick up right where he left off last season. Only throwing eight passes and completing six, he still was able to throw three touchdown passes in the short time out. In typical Manziel fashion he had to have his rebellious moment, earning an unsportsmanlike conduct penalty because of one of his touchdown celebrations. Manziel looked as if he was rubbing his hands together symbolizing getting money, which we all know he was accused of this off-season in taking money for autographs. Regardless Johnny Football made a statement to the college football world showing he is back and ready to protect his Heisman.
Although week one was full of action, week two will be just as eventful. Some games to look for in week two are No. 10 Florida at No. 24 Miami, No. 6 South Carolina at No. 11 Georgia, No. 15 Texas at BYU, No. 14 Notre Dame at No. 17 Michigan, and San Jose State at No. 5 Stanford.
About the Contributor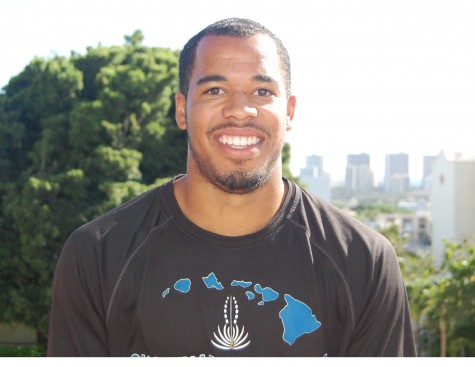 Lee Bailey, Staff Writer
Lee is a junior Communications-Marketing major at Chaminade University from West Bloomfield, Mich. He is a third-year player for Chaminade's basketball...