CUH softball led by 'most decorated' player ever
Chaminade's best softball player almost never came to Chaminade. Rayna Strom-Okimoto, who's from Hawaii, made her decision to explore the mainland four years ago. For the first two years of college, she was playing for South Oregon University.
Up in Oregon, she had an outstanding softball career and was named to the All-Cascade team. Yet despite her success at South Oregon, she decided to come to Hawaii and transfer to Chaminade University last year.
Leading Chaminade's softball team with seven home runs this season, Strom-Okimoto is the most recognized player on the team. In the last two weeks, she's been the back-to-back Hawaii's Tourism Authority PacWest Player of the Week. In addition, last year, she was awarded the PacWest Newcomer of the Year, the 2012 Daktronics, Inc. Division II All-West Region Softball Second Team and claimed First Team PacWest honors as a utility player and Second Team accolades as a shortstop.
"She's our most decorated softball player, as far as I can remember," said Kent Yamaguchi, the head softball coach.
Strom-Okimoto said she came back for her family. According to Yamaguchi, Strom-Okimoto has a strong family support with 10 to 15 family and friends supporting her at the game. Her grandparents, in particular, go to every game.
 "I just wanted to be back for my grandparents too," Strom-Okimoto said. "They supported me throughout my softball career. It's kind of hard for them to fly up all the time and watch my game. So, just being back home was nice."
After transferring to Chaminade and joining the softball team, it was no shocker to Yamaguchi seeing what Strom-Okimoto could do on the field.
The two had previously known each other because he tried to recruit her when she was in high school. Rather than being surprised by her stats and abilities, he was thrilled to receive a phone call from the Strom-Okimoto saying she had thoughts on going back home.
Since arriving in Chaminade, she's played in every game. Last year, she was second in conference in batting average.
This season, she is leading the team with a .398 batting average and 30 RBIs. The seven home runs she hit are as many home runs her teammates have hit combined.
"She's got a way of adjusting to the pitches. She can hit 'out of the box,'" Yamaguchi said. "A lot of hitters would just be able to hit in the zone. Rayna can take a ball that's a little off the plate and drive it somewhere … she's got strong hands. She can muscle the ball."
Strom-Okimoto's statistics aren't the only factors that contribute to Chaminade's softball team. As one of the three captains of the softball team, she brings the team together. She relays any information Yamaguchi needs to tell the team and organizes the team to wear the same clothes.
In addition, she being a good hitter, Strom-Okimoto oozes confidence, which the team can thrive off. Yamaguchi believes the way she carries herself reflects off the team.
Having family ties to the sport, she grew up playing softball almost all her life. Her grandfather, who got her started with baseball at 6 years old and softball at 10 years old, played slow pitch and her uncle played baseball.
Ironically, she didn't like playing the sport at first. Strom-Okimoto described how her grandfather would make her hit the ball off the tee. If she dropped her hands and hit the tee too often, he would grab a ball and "whip it" at her foot. She didn't want to play and all she wanted to do was go inside. Despite her dislike, she "stuck it out" and is now the team's best player.
"I went through a lot to become what I am today," Strom-Okimoto said. "I used to hate it before because my gramps used to make me go out and hit balls all the time and I didn't want to, but I realized how if I didn't do that, I wouldn't be the person I am today. I wouldn't be as good as I am today. I've just grown to love it, just doing throughout life."
Although she's reeled in many awards, she hasn't let success go to her head.
Strom-Okimoto said she wasn't expecting to win awards. While playing softball, she aims to win, but at the same time, she's just playing the game she loves.
"I just played my game and did what I do on the field," Strom-Okimoto said.
Although she's played the game for many years and is the best batter, she isn't perfect. Just like any ordinary person, she has her weaknesses.
"… I tend to over analyze things, and it makes it worse actually and everything starts to go downhill, Strom-Okimoto said. "So, I just kind of have to relax and remember just to have fun. Like, I'm out here to have fun, I'm not trying to be an all-star or be number one. I'm just trying to play the game that I love."
About the Contributor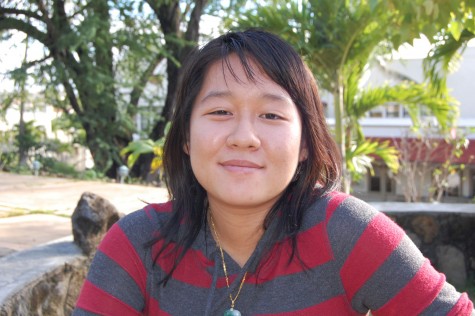 Jasmine Cho, Staff Writer
Jasmine Cho graduated from President William McKinley High School. She is currently a sophomore at Chaminade University of Honolulu and is majoring in...