Turmoil in women's tennis continues after coach resigns
The Chaminade women's tennis team faces more challenges with the loss of interim head coach Michael Rothhammer, who abruptly resigned and left the team, once again, without a coach
In September, the Swords head coach Blake Mosley left for an assistant coaching position at Santa Clara University. Mosley had helped the Swords to a 40-54 record in the last five years and earned them a third-place finish in the 2010 PacWest Conference.
The Swords then lost Rothhammer in March but picked up Keawe Ayau, who helped them to their first win of the season against George Fox University on March 13.
The athletic department had interest from some highly recommended coaches after Mosley's departure, but all of them decided to go a different direction. During this transitional time, the players were either practicing with non-Chaminade tennis players or not practicing at all. In late November, Rothhammer was hired as the interim head coach but proved to not work out either.
Ayau took over as the head coach after the abrupt loss of Rothhammer with six matches left in the season. The Chaminade athletic director Bill Villa was able to convince Rothhammer to stay with the Swords for their match against Brigham Young University of Hawaii on March 13, so they had a coach.
"He came to this match and we were all standing there at the end and waiting for him to give us our big announcement that he's abandoning us halfway through the season and he was just like 'Alright I'll see you guys later,'" said Melanie Schumilas, a sophomore, from Waterloo, Canada.
When Ayau came to Chaminade during midseason, she discovered that the team had never had a real practice this season. The players were out of shape and unmotivated.
"It's like they didn't even care," Ayau said. "They don't care if they lose, they don't care if they win, they don't care if they have practice, they don't care of really of anything. But when we had our first win that kind of turned everyone around, because they never had a win. Now they want to play more and practice more and just put out more in every way."
Ayau has experience coaching high-level junior tennis players and was the high school state tennis doubles champion three consecutive years at Kamehameha.
Ayau hopes to get the head coaching position next season and bring more notice to women's tennis at Chaminade.
"They just want attention," Ayau said. "They came here to play tennis and that's what they want to do and to have nobody to pay attention to that, that's, you know stink. They suffer."
The Swords will play their last match of the season against BYU-Hawaii on April 9, at 2:00 p.m. in Laie.
About the Contributor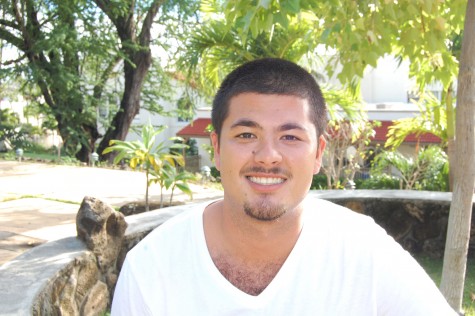 Joe Wakazuru, Staff Writer
Joe Wakazuru is originally from Seattle, Wash. He moved to Hawaii in middle school and attended Mid-Pacific Institute.  He is a senior at Chaminade University...