Swords to face national champions at NCAA
Chaminade will seek revenge on Western Washington University, the Division II national champions, after suffering a home game opener loss to the Vikings on Nov.14.
The eighth-seeded Swords travel to WWU to take on the No. 1 seed team in the first round of the Division II men's basketball tournament on March 15 at 4:30 p.m. HST.
"We all know that the atmosphere is going to be crazy," said De'Andre Haskins, a senior guard and PacWest player of the year. "It's home court, first game of the regional's, they just came off a loss in their conference tournament, and it's just going to have a whole new feel. It's win or go home. Win or go home."
WWU averaged 1,200 in attendance at home games this season while the Swords just averaged 179 in home games. Chaminade is well seasoned with playing away games or even home game with a large opposing fan base.
Chaminade will have to contend with WWU's big frontline of Christ Mitchell and Austin Bragg, who both stand at 6-foot-9. In the previous game with Chaminade, these two combined for 32 points and 22 rebounds.
Since losing forward Rhys Murphy to an injury earlier this season, the Swords have started five guards, and not one of them is taller than 6-4. However, Tyree Harrison, a 6-7 junior forward off the bench who has only averaged 18.1 minutes per game, leads the team in blocks and is fifth in rebounds.
"Western Washington has huge guys," Haskins said. "They got big 6-8, 6-7 guys to start off their battle with."
The Vikings proved they could shoot in their last meeting with the Swords, shooting 52 percent from the field and 8-for-12 from the 3-point line. Haskins, Chaminade's leading scorer, had one of his worst games shooting only 2-for-12. The Swords also struggled with free throws, shooting only 15-for-31.
Since the game with WWU, the Swords have shot 43 percent in field goals and 73 percent in free throws but out rebounded by opponents on the season average.
"They beat us in ways that we don't let ourselves get beat nowadays," said Mike Green, a sophomore forward. "… We do a way better job of helping one another out and even when one person helps someone else out we know how to help the helper. We're playing team defense a lot better."
Chaminade will need to find a way to slow down WWU's Paul Jones and Richard Woodworth, who are at almost 50 percent from the 3-point line.
For the Swords, this game is potentially the last game for the four seniors.
"Like coach was telling us this morning like we were always known as the giant killers or giant slayers," Haskins said. "We're (the) eighth seed, everyone thinks we're going to go home like, 'Oh it's just Chaminade,' but we feel different as a team. We feel like we can compete, and we are a much better team now than we were before."
If the Swords beat WWU, they will take on the winner of the Dixie State University and Cal State San Bernardino game on Monday, March 19, at 4:30 p.m. HST.
About the Contributor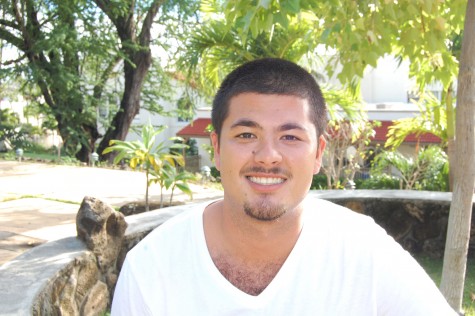 Joe Wakazuru, Staff Writer
Joe Wakazuru is originally from Seattle, Wash. He moved to Hawaii in middle school and attended Mid-Pacific Institute.  He is a senior at Chaminade University...