CUH basketball looks to improve seed in conference
Chaminade will send off four seniors this year after a memorable season. At the Maui Invitational, the Swords defeated the Division I team, the University of Texas, and they currently have a 10-1 record in the last 11 games. Chaminade doesn't show signs of letting up, though.
The Swords returned from a road game, where they defeated the University of Hawaii-Hilo 103-72 Tuesday night, shooting 56.7 percent from the field and 46.2 percent from the 3-point line, while holding the Vulcans to 14.3 percent from beyond the arc.
Chaminade will play Hawaii Pacific University at McCabe Gym on March 2 for the last home game of the season at 7:30 p.m., and senior night for Bennie Murray, De'Andre Haskins, Dominique Cooks and Waly Coulibaly.
The Swords played HPU earlier in the season, which head coach Eric Bovaird described as a "battle" in an interview after the game, but Chaminade held on for a close 72-69 win.
The last home game is crucial. The Swords are ranked third in the conference with a 14-3 record. With a win in their last game, they will have a chance at a first-round bye if either Dixie State University or Grand Canyon University loses its regular-season finale.
The four seniors will be enjoying their last home game of college basketball, but immediately after preparing for the first annual 2013 PacWest Basketball Championship that will be in Azusa on March 7.
"All together, our seniors, I love those guys," Haskins said. "I need to tell them that before this time is over. I got to tell them that it was great playing with them and just getting to know them."
Haskins, a senior guard who returned to the court after sitting out last season with an injury, has led all three categories with averaging 18.5 points per game, 161 rebounds and 38 steals.
The statistics are obvious, but Haskins has done more for the team than just put up points and rebounds.
"The best thing that De'Andre brings is his constant intensity," said Cooks, a senior guard. "He doesn't take a single play off. He plays hard every single play and that rubs off on people."
Cooks may not be leading in statistics but players describe him as the leader of this team.
"Dom, man he's the greatest leader I've ever played for in any aspect of life," Said Murray, a senior guard. "… He'll do anything for this team. He's 6-4 guarding centers, guarding the biggest guy on the floor, and that's just the type of person he is. He's all about sacrifice."
Murray is also having a standout senior season. He is currently second in points per game and second in rebounds. What he hasn't done might be most notable though. Last season, he had 72 turnovers. With one game left, Murray only has 48 turnovers. Bovaird said this is a result of his shot selection and not forcing plays that aren't there.
Coulibaly, a senior guard, nicknamed the "Quiet Assassin" by Murray, will also be saying his farewells to the fans at McCabe. Coulibaly is coming off a 19-point game against UH-Hilo, where he went 4-for-6 from the 3-point line.
"He doesn't have to say much, but just his actions alone rubs off on you, and yeah I'm going to miss playing with him," Murray said.
The Swords will say goodbye to the intimate group of fans at McCabe. This season Chaminade has averaged a 156 people in attendance at home games. A plus to this is that there are almost always courtside seats available.
"We don't get thousands of fans at the games like big schools do, but the couple people that do come," Murray said. "It makes it mean that much more, cause you see their faces and these are people you have classes with, and you actually get to know, so to see them at the game, it means the world to me that people will take the time out of their day to come and support us."
About the Contributor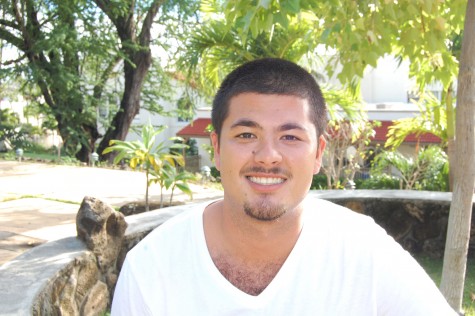 Joe Wakazuru, Staff Writer
Joe Wakazuru is originally from Seattle, Wash. He moved to Hawaii in middle school and attended Mid-Pacific Institute.  He is a senior at Chaminade University...