Roller Derby thrives in Hawaii
On Saturday, Dec. 1, the Dash Dolls and the Tiki Dolls took to the oval flat track, where the women ruled the court, while husbands, families and friends rooted on their favorite roller derby team.
The women were suited up with protective gear, skates and helmets with their respected derby names. Unlike most sports though were only team jerseys are worn, these women accessorized themselves with tights, fishnets and colorful socks.
"I really like team sports and outside of the sport this is the most amazing group of women I have ever met," Sarah Klitzke, 34, who skates under the name of "Square Peg" said. "They come from all walks of life, all sizes, all shapes, all ages, all races."
The Aloha City Rollers derby league hosted its last bout of the season at the Kaomaaiku Neighborhood Park rink in Mililani. The Dash Dolls scored 131, beating the Tiki Dolls that finished with 125 points.
The Aloha City Rollers league celebrated its one-year anniversary in October. The league currently only has two women's teams but is planning to start a coed team next year and increase youth participation.
"When I first started derby some of the girls gave me a really hard time just because like ooo don't swear in front of the priest's wife and ooo don't say that in front of the priest's wife and I've always been a really, super good girl and getting out on the track just gives me an opportunity to be something different, but I'm still square," said Klitzke. "I'm still pretty square in my normal life."
Klitzke, who had a dream that her name was "Square Peg," moved from her home in Alaska to Hawaii, where her husband is the priest at St. Nicholas Episcopal Church in Kapolei.
Klitzke was far from square on the derby track though. When the jam started these women proved to be hard-hitting football players on skates. The trainers box was filled though whole game seeing to the scrapes and cuts.
Players are taught how to fall to prevent injury but broken ankles and dislocated shoulders are still a common injury.
Players choose their own derby names, which they feel reflect who they are on and off the track. For some, this can be quite a challenge to sum up who they are in one word or a couple. To make the process even more difficult no player can have the same name as another in the world.
Klitzke said when she moved to Hawaii she didn't know anyone and didn't know the area, but she had recently seen the movie "Whip It", prompting her to look up roller derby on Oahu. After only 10 days on the island she was an Aloha City Roller.
"She's awesome," said Shana Ikeda, 37. "… She's just so welcoming to everyone in the league."
Ikeda, known as "Cheeky Shaynanigans," is from Hawaii, but starting playing roller derby in California and continued when she returned home. Currently she is a non-skating official because of a back injury.
"At the time I was just starting to go through a divorce so I didn't really have anything that was just mine and it was just like a good release," Ikeda said. "You know when you're angry and you need to get some frustration out. I was actually looking at a kickboxing class and skating just seemed like a more fun option."
The Aloha City Rollers will be back in action toward the end of January. The league is always recruiting volunteers, sponsors and skaters. Men and women, young or old have an opportunity to join the ACR family. Find them at http://www.alohacityrollers.com/.
"It's not just about the skaters," Klitzke said. "It's about this whole community of people coming together to have a good time, to get some exercise, to watch some fun sport and it's really growing."
About the Contributor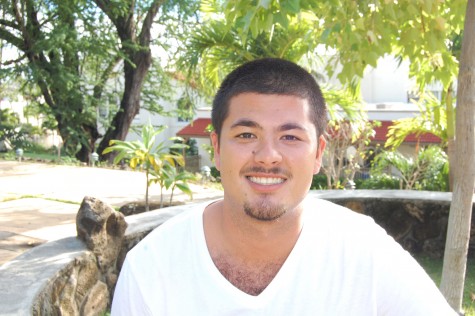 Joe Wakazuru, Staff Writer
Joe Wakazuru is originally from Seattle, Wash. He moved to Hawaii in middle school and attended Mid-Pacific Institute.  He is a senior at Chaminade University...