Ahakuelo Hanging up the Jersey
Jordan Ahakuelo, 20, a junior majoring in Criminal Justice and a shooting guard for the Chaminade women's basketball team, is retiring after playing two years.
Ahakuelo was named to last year's PacWest Honorable Mention Women's Basketball Team and also a PacWest Scholar Athlete.
"Chaminade is an amazing educational institution," said Ahakuelo.
"Being a part of athletics was a very wonderful and exciting experience. I really enjoyed traveling to different schools and playing the top athletes in the PacWest Conference."
Jordan averaged 11.3 points and 5.8 rebounds per game and started all 23 games she was involved in.
Like many athletes, there comes a time when you just have to put down the ball. Even though it was a hard decision of whether or not she should stay and play, Jordan decided that it was time to end this chapter of being a student athlete and focus more on being a student.
"Overall, I gained a lot of knowledge in both basketball and life," she said. "And I can honestly say it was a life changing experience."
Although most athletes develop their passion for a sport at a young age, Ahakuelo found hers in junior high. Once she began playing in junior high, her love for basketball began to grow and continued on at Pearl City High School, and she played all four years. With this newfound passion, Chaminade women's head coach Bobby Keanini recruited her.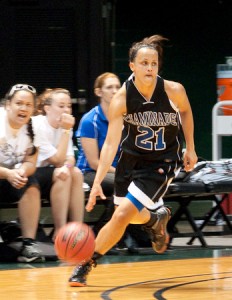 Jordan had a competitive drive, which was a good attribute to add to the team. She is a hard-working athlete and practiced every day on and off the court. When she was not practicing with the team or had the day off from practice, you could find Jordan practicing at the Central YMCA for hours or at the Carlson Fitness Center on campus working out.
"My favorite memory was when I was a freshman and we won our first conference game," said Ahakuelo.
"It was against Dominican University, Jan. 10, 2011 at McCabe Gym, and we won. It was our first win as a team and it was also Coach Bobby's first win as a collegiate coach. It was a good feeling."
From waking up every day at 5 a.m. for practice to home games to road trips in the mainland, Jordan made a lot of memories with her teammates and coaches over the past two years that made her time as Chaminade athlete enjoyable.
But what does an athlete do once they stop playing the game?
"Since I'm not playing anymore, I really had to change my whole lifestyle. I'm definitely focusing more on my studies and education," said Ahakuelo.
"I'm applying for a research program in the 2013 summer, and I am planning on graduating in Fall 2014. I am hoping to attend graduate school in the mainland and after graduate school, I am looking forward to joining the U.S. Marshals."
"Although I'll miss playing with my team, I wish the lady swords good luck in their upcoming season."
About the Contributor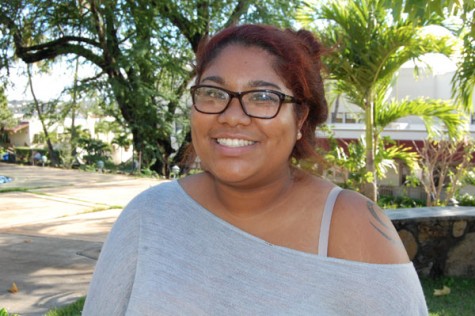 Tawnee Janae Rollerson, Staff Writer
Tawnee Janae Rollerson, a California-born native, is originally from Milpitas, CA. She graduated from Archbishop Mitty High School in San Jose, CA.  Tawnee...