Softball is excited to make this year memorable
Chaminade softball just began its season by playing a tournament against University of Hawaii, and a Japanese college, (Kumamoto International College). Chaminade lost 11-1 against University of Hawaii, but Chaminade head coach Kent Yamaguchi was proud of his team keeping a close game in the beginning.
"It was very competitive, more than the 11 to 1 score showed, said Yamaguchi. There were years when we went out there and we had a hard time staying with them. But this year, we stayed with them really nicely."
The Silverswords have starting the season playing this tournament, Yamaguchi's team had learned a lot even though only four seniors, and the sophomores and freshmen learned a lot. Chaminade had finished this tournament 2-1. Beating the Japanese team twice. Senior Rayna Stram-Okimoto had two home runs. Seniors Letisha Vaba and Kori Beronobis contributed to this team defensively, said Yamaguchi.
It's Stram-Okimoto last year playing for Chaminade. During her junior year, Stram-Okimoto earned a pair of all PacWest awards. She was named to the first team and honored as a utility player and second team accolade as a shortstop.
"I feel good, I think I work hard," she said I was actually surprised that I had it, but not only that, I work hard.  The team helps me a lot."
The four seniors on a team are excited about this season. They believe that the team is working harder and stronger than last year. This year they are coming together as team so they can be on the same page and compete together.
"We are more in the zone and we are more disciplined and confident and pretty smart. It's going to be different this year," said Beronobis, a senior and team captain.
"Playing against UH Manoa, we did learn a lot, even though we lose by a lot we do learn. The game is a lot quicker and we learn to be mentally strong," said Vaba, an infielder
Yamaguchi didn't recruit a lot of players this because he had only two seniors on his team last year. He recruited freshmen from Big Island. Kelsey Carmelo and another player are walk ons. Coach Yamaguchi picked up two players from HPU (Hawaii Pacific University) Christiane Endo and Sierra Mendiola. These two players will be great additions to Chaminade but have to sit out a year because of NCAA conference rules. The team has 18 players.
Yamaguchi has been Chaminade head coach for eight seasons now. This year coach is confident about his team, more so than in years past.
"I think our starters are really solid," said Yamaguchi. We look really strong from other years. There were two freshmen now there are two sophomores.  I think if we can continue to play good defense behind them they are getting better and I think we will be a better team this year."
Yamaguchi's goal this year is to have a winning season like his first year at Chaminade.
About the Contributor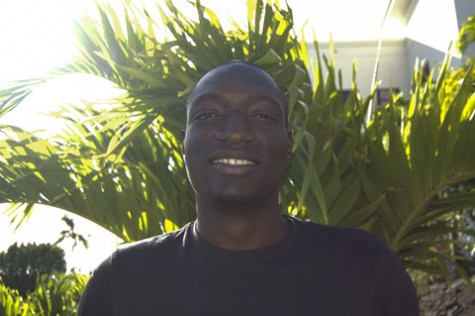 Waly Coulibaly, Staff Writer
Waly Coulibaly is a senior majoring in Communication Marketing and one day hopes to become professional basketball player and then maybe be a coach for...