Senior night wraps up volleyball, cross country seasons
A game matching two Division II women's volleyball teams that share the hometown of Honolulu, occurred last night on Thursday, Nov. 15th: HPU versus Chaminade. This was not any other volleyball match, however, but the very last match for Chaminade women's volleyball team in the PacWest conference, hosted on Chaminade campus at McGabe Gym.
This night was made even more special because it was Chaminades' volleyball and cross country senior night, honoring Chaminade volleyball team's only senior, Whitney Viveiros, and two of Chaminade cross country's seniors, Shamis Coughlin and Kristine Kaneichi.
Outside hitter Viveiros, started the match, no different than any other game. She has been a starter for almost her whole volleyball career at Chaminade. Viveiros, who plays every rotation, had a clean kill earning the 13th point in this first game, yet it was not enough to keep the Sea Warriors at bay. HPU and Chaminade quickly rallied in the first set until the final outcome ended the game, giving HPU the win in a close 25-23.
Game two began and Chaminade appeared to have a shot in retaliating back against HPU at 9-3, yet the outcome was a disappointing 25-17. During timeouts, HPU's own dance team and cheerleading squad entertained the crowd with short, lively routines to current pop songs like, "Shooting Star."
It was after the end of the second game that two of Chaminade's cross country seniors, Coughlin and Kaneichi, were called up in front of the audience to be recognized for their athletic achievements by head cross-country coach Kainalu Picl. Both seniors received traditional orchid leis, as well as unique koa nut leis complete with a hand-painted silversword plant on every other nut in detail. Athletic director, Bill Villa, had these shipped in from a small shop in Las Vegas. It was a final goodbye moment for both seniors, especially for Coughlin who has been running cross country for Chaminade in all four of his years.
"Deep breaths, vomit and sweat, these are the things that I do not regret," said Coughlin, summing up his last season on the team.
Game three was the Silversword's final chance at coming back, yet a close loss resulted in HPU defeating Chaminade at 25-23. As disappointing as this loss was for the Silverswords, Viveiros at least left her final match at Chaminade with four kills and nine digs. She was honored once the match concluded and given a chance to take her five final swings on the volleyball court at Chaminade, by setter Daniella Montoya.
The game's announcer paid tribute to Viveiros as well, naming her accomplishments over the last four years as a Silversword. Villa and the parents of Viveiros presented the senior with traditional leis, and a final word was given by teammate, and #6 outside hitter Mary Gillan.
"We can be in the same room, not saying anything, yet know that everything is OK. She is free-spirited and a great leader," Gillan said of Viveiros.
With a blooming neck full of flower leis, continuing to grow as friends and family leid the senior again and again, Viveiros reflected fondly of her past years on the team.
"I will definitely miss being a Chaminade Silversword athlete," she said.
It is evident that this was a night to remember. Despite a disappointing loss, Chaminade's senior night had a large turnout in the crowd and proudly recognized its accomplished seniors athletes. Viveiros played a great game and added four kills to her total collection of 207 all season.
Head coach, Kahala Kabalis, admiringly commented on Viveiros being a strong player to the team.
"I wish we could find more years of eligibility … I'd love to have her for four more years," Kabalis said. "She will truly be missed."
About the Contributor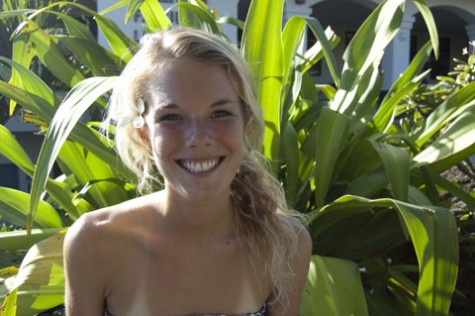 Emily Ochsner, Staff Writer
Emily Ochsner grew up in Camarillo, California, and attended Chaminade University in Honolulu, HI, immediately after graduating high school in her hometown....