Men's basketball team tops New Zealand in a high-scoring exhibition
In an exhibition game the Chaminade men's basketball team used a fast and fluid offensive attack that ran New Zealand all over the court, highlighting the Swords shooting and motion offense.
The Swords had a 117 points, the most they have scored since at least the beginning of the 2005-06 season. Chaminade was able to find the open players and proved to be dangerous from the 3-point line, connecting on (13 of 31, 42 percent).
Mike Green, a sophomore transfer from the University of Akron, made his debut and led the Swords with 30 points off the bench.
The Swords, who were selected sixth in the PacWest preseason poll faced New Zealand in an exhibition game to kick off the 2012-2013 season. Coming out with a 117-103 win Tuesday at McCabe Gym in front of a crowd of 180 people.
The Swords were out rebounded 40-35 and allowed New Zealand to shoot 40 percent from the 3-point line. However, they made up for it with 14 steals and were impressive at the free-throw line, shooting (26 of 30, 87 percent).
Five players scored in double figures, including (Bennie Murray, Dominique Cooks, Lee Bailey and De'Andre Haskins). Returning guard, De'Andre Haskins, a senior that didn't play last season due to a stress fracture in his left foot had 24 points and shot 9-for-10 from the free-throw line. Bailey the reigning PacWest Co-Freshman of the year had 16 points and lead the team with 4 steals, but also made up five of the 14 Chaminade turnovers.
"I thought our motion offense for this early in the year was pretty successful," second-year CUH head coach Eric Bovaird said. "Cause usually you need to work through some kinks in a motion offense because it's five guys that have a little bit of freedom to do things and they looked pretty good. We're on the right track. We're ahead of where I thought we would be with the motion offense."
New Zealand's guard, Paora Winitana, 35 carried the team with 26 points and five rebounds, leading three other players in double figures, but wasn't enough to overcome the 14-point deficit.
New Zealand stayed close through the first half, forcing the fast break Swords to play a halfcourt offense. New Zealand took the lead with 10 minutes to go. But with two minutes left the Swords went on a 13-5 run. Seven of the points came from Green.
"Mike's a good, smart player," Bovaird said. "One, he's a really good shooter. He's going to be guarding most likely four position players and that means the big guys are going to have to step out and guard him on the perimeter, and so him having the ability to shoot the ball opens up a lot of things for us offensively."
Green, a sophomore that only played 18 minutes last year in Akron, went 6-for-12 from the 3-point line and recorded five rebounds in 27 minutes. Chaminade has a couple of players with the ability to shoot well.
"As a team we shared the ball pretty well," Green said. "Personally I was hitting some shots. I was rebounding pretty well. I think we need to play better defense, but overall I think we just played well together."
New Zealand came within seven points in the second half, but struggled protecting the ball. The team turned the ball over 27 times.
The Swords struggled to rebound and poorly contested shots, leading to easy lay ups for New Zealand. The visitor's ball movement and patience proved to point out problems in the Swords defense.
"From a defensive perspective we got to get better," Bovaird said. "Our pressure defense. We forced a lot of turnovers tonight and that's what we want to do but we don't want to give up lay ups. We gave up too many easy shots."
The Chaminade men's basketball team will play today against Saint Martin's University and Saturday, Nov. 10 against Western Oregon University in the third annual GNAC/PacWest Challenge in Monmouth, Ore.
About the Contributor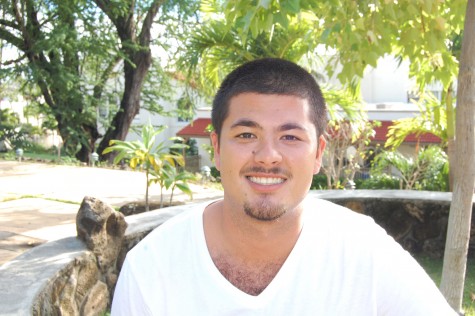 Joe Wakazuru, Staff Writer
Joe Wakazuru is originally from Seattle, Wash. He moved to Hawaii in middle school and attended Mid-Pacific Institute.  He is a senior at Chaminade University...