A time for Silverswords to blossom
Last season, the Chaminade men's basketball campaign was disappointing.
Coming off a conference title the season before, the Silverswords were devastated by graduation, inexperience at key positions and injuries en route to an 11-14 record, including a final stretch with eight defeats in the last 10 games.
But on the cusp of a new season and with reinvigorated hope thanks to a fresh start, Chaminade is looking to recapture a Pacific West Conference title this season.
The Swords, which started official practice on Monday, Oct. 15, will be relying heavily on seniors DeAndre Haskins, Waly Coulibaly, Dominique Cooks and Bennie Murray. Though Chaminade lost leading scorer Matt Cousins to graduation, Murray and Cooks return as the second- and fourth-leading scorers last season.
Sophomore Lee Bailey, who was the third-leading scorer last season with 13.5 points per game, is back at point guard. New transfers Rhys Murphy from Oregon State University and Tyree Harrison from Citrus College in California should add depth to a rotation that was limited to just seven men last year with injuries to Haskins and departed forward Rickey Clayborn.
"Transfer students Rhys Murphy and Tyree Harrison will have an impact on our team with their height and versatility on the court," said assistant coach Darrell Matsui.
Chaminade's season will start with an exhibition on Nov. 6 against New Zealand, which is much older and deeper than CUH. After, the Swords will start their preseason with the GNAC/Pac West Challenge in Oregon against Saint Martin's University and Western Oregon University.
After the home opener against Western Washington University on Nov. 14, the Swords will ready for the much-anticipated Maui Invitational, one of the hottest preseason basketball tournaments in the country. Some of the best teams around the country come to Maui every year, and Chaminade is fortunate enough to host it. The Swords are a Division II program, and getting to face three major Division I opponents gives them the toughest preseason DII schedule in the country.
This year, North Carolina, Texas, Illinois and USC will be among the seven other teams in Maui. North Carolina is the highest-ranked team in the field at No. 12. But the tournament also includes powers like Butler, which reached back-to-back national championship games in 2010 and 2011, and Marquette, which lost two players to the NBA Draft in June.
Texas, which is ranked 24th in the preseason poll, will be Chaminade's first opponent (Nov. 19 at 4:30 p.m. on ESPNU). Chaminade will play either the winner or loser of the Illinois-USC game.
"In order to be successful against Texas, we will have to take care of the basketball and not turn it over as well as play as a cohesive unit on defense," Haskins said.
While the Maui Invitational is Chaminade's opportunity on the national stage, what really matters is its play in the Pac West. Recapturing the conference title could allow Chaminade to make another appearance in the NCAA Tournament, the most important tournament to be a part of if playing college sports because it would give the Swords a chance to play for a national title.
"Beating Texas would be great, but winning the conference again would
be a lot greater," Matsui said.
About the Contributor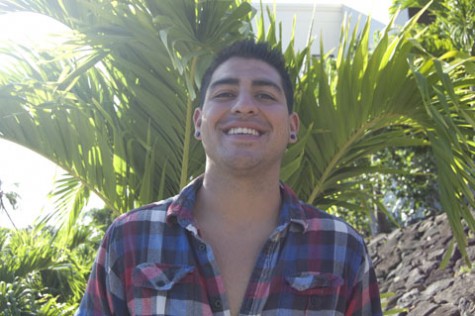 Mathias Berbel, staff writer
Mathias Berbel grew up in Simi Valley, Calif., and has been living in Hawaii for the past three years. He plays soccer for Chaminade University as well...