One more trainer for Silversword's team
One trainer for 31 athletes at Chaminade, a Division II university, is not enough. This year, Chaminade added a new athletic trainer to balance out the limited number of sports trainers and assistants for its nine teams.
Cathy Agapay is new to Chaminade this year, making her debut to the Chaminade athletic training staff fresh from graduation with a bachelor's degree in athletic training from Boise State University in Idaho. Born and raised in Maui, Agapay wanted to receive her education from a mainland university.
"I chose Boise based off the scholarships they gave me," she said. "I also met the head director of the athletic program through a mentor in high school, which helped me make my decision,"
Not only did Agapay receive an experience different from the culture and lifestyle she had grown up with all her life on the island of Maui, but training at Boise State gave her the opportunity to work with noted athletes that attended the university as well. Such athletes happen now to be signed NFL players such as Titus Young, Nate Potter, and Shea McClellin. She also worked with Kurt Felix, a track star at Boise State, who ran the decathlon for his country, Grenada, in this past summer's 2012 Olympics.
With the addition of Agapay, Chaminade now has three full-time athletic trainers to dedicate their time to caring for the individual teams.
"It definitely gives each sport more attention, which is needed in any level of competition. It's always good to have more than one athletic trainer for an entire college," said Agapay who trains men's and women's cross country and women's basketball.
"It definitely gives each sport more attention, which is needed in any level of competition. It's always good to have more than one athletic trainer for an entire college," she said.
The early hours of 6 a.m. and the scheduling conflictions must take a toll on her as well but Agapay stays focused and determined. She enjoys the training team she has joined that includes head athletic trainer Chris Cornell and assistant athletic trainer Anna Fukunaga, who have both been at Chaminade the past two years.
"Chris has been great," Agapay said. "He is there more to overlook at what I do. He allows me to do things freely but at the same time if I have any questions he is there to help me out."
Cornell said that Agapay has been a great addition to his staff.
"Cathy is serving us in more of a traditional athletic training GA role. This means she is going to school here to get her master's degree and treats the position more than just a 20-hour part-time job. It's a chance to grow as an athletic trainer and gain job-related experience so she's really making the most of it by helping out as much as she can." Now Cornell can fully dedicate his time to men's basketball and women's softball.
"As we keep growing, it allows us to better serve the athletes that serve Chaminade University," Cornell said. "I like surrounding myself with positive people that enjoy what they do and I really hit it spot on with Cathy."
Potentially with more of a balanced trainer-to-sports team ratio, Chaminade's teams will be better prepared and competition-ready. This will be a busy fall season for Agapay as men's and women's cross country is already in full gear, preparing for the regional championships coming up in November, as well as women's basketball beginning its season immediately after.
About the Contributor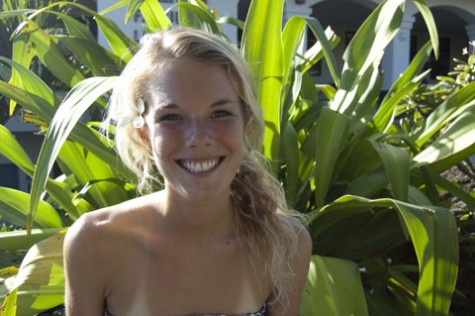 Emily Ochsner, Staff Writer
Emily Ochsner grew up in Camarillo, California, and attended Chaminade University in Honolulu, HI, immediately after graduating high school in her hometown....