Volleyball enjoys Swiss connection
Two volleyball players have come a long way to be here at Chaminade.
Kim Spring was born in Bern, Switzerland, which is the capital of the country. Valentina Bevilacqua was born in Vacallo. Both played on the Switzerland junior national team, and they have known each other since 2007.
Though they're from the same country, they unknowingly and independently decided to come to Chaminade, moving 7,700 miles from home to now be playing together in here in Hawaii.
Both Spring and Bevilacqua said they always got along very well with each other when they were playing in a junior national team and both appreciated that they are together here. Both are freshmen, and Chaminade has started the season strong this year with a 3-5 record.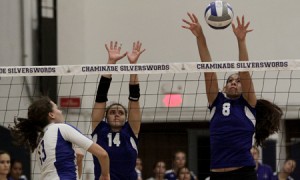 Spring, a right side/outside hitter, found out about Chaminade when a woman from Germany helped her to put her video on a website for recruiting players. The Chaminade volleyball coach Kahala Kabalis had found the video online and eventually contacted Spring with a scholarship offer.
Spring has started every match for Chaminade she was in first tournament she was outrigger hotel first team outside hitter.
"Coach Kahala contacted me, and then she told me about university," Spring said. "And then I talked to a teammate to ask them about Chaminade, like how's practice, how's school in here. And that's how I decided to come to Chaminade."
Kabalis contacted Bevilacqua, a setter, directly. She has yet to play a lot of game she's working on her way to getting better and play more.
Last year, both Spring and Bevilacqua playing in Switzerland for different clubs. Valentina played in Val de Travers team, which is a second Swiss national division where they placed second. Spring played with her High School Bildungszentrum and Feusi Sportschule.
This is the first time Spring has been away from home for an extended period of time. She used to travel, but the longest was three weeks away from her family. Bevilacqua had been away from home when she spent nine months studying at her school, which was five hours from her home.
"I miss home. I'm really closed to my family, my mom, my dad and my sister," said Spring. "It's hard that my boyfriend is back home. I can talk to them on Skype, but it's hard. I didn't think it will be that hard."
"No I didn't miss home for the moment. I'm used to it. For now it's good. Maybe in December, I will start (to be) homesickness," said Bevilacqua.
For both Spring and Bevilacqua, this is the first time they have come to Hawaii, and they both agree that it's really different (the weather, the beach, their friendly teammates) from Switzerland.
Both enjoyed playing volleyball. It is a passion that they are trying to get better at and win the championship for Chaminade while they are here.
About the Contributor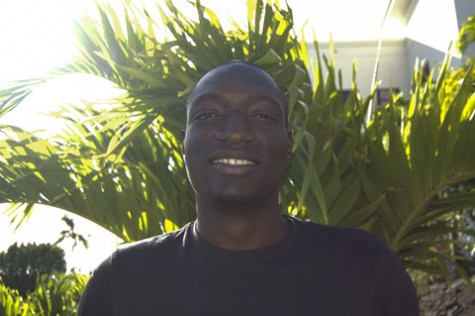 Waly Coulibaly, Staff Writer
Waly Coulibaly is a senior majoring in Communication Marketing and one day hopes to become professional basketball player and then maybe be a coach for...