It's rec season at Kamehameha Canoe Club
A fleet of red and yellow boats belonging to the Kamehameha Canoe Club filled the width of the Ala Wai canal as paddlers made their way to the open ocean after a few safety precautions and a bunch of lessons to first-time paddlers. Club members gathered as early as 9 a.m. on a Sunday in February to learn and enjoy the Hawaiian version of canoeing, or "paddling," as the locals call it.
The Kamehameha Canoe Club is a local organization that has been around since the early 1960s. It strives to teach and keep alive the Hawaiian cultures and traditions within the club as well as through the sport of paddling.
"Today, even with fiber glass boats, we try to respect the culture and the boats," said Henry Kruse, famously known as Coach Kruser, who has been paddling since 1978 and is now the head coach of the men's program. "Here at Kamehameha, we try to teach that."
A lot of the success appeals to novices, or first timers, who can join anytime during the organization's annual recreational, or "rec," season. This ongoing rec season started October and will continue into the start of April. Kamehameha Canoe Club hosts it's rec season every Wednesday and Friday from 5 p.m. to 7 p.m. and Sundays 9 a.m. to 12 p.m.
The majority of the paddlers who are involved in the rec season are new to the sport. People normally sign up for a good workout, for the experience and just to have fun. Others who are more driven sign up to practice and perfect their technique for competing seasons. For veterans, it is a means to still keep in shape and it is an option for something fun to do.
"It teaches culture," Kruser said. "It is truly a team sport and it's for anyone."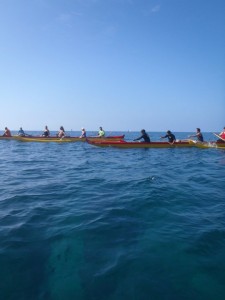 The sport of paddling develops high endurance and strength. It requires perseverance and a lot of focus, according to Kimo Stupplbeen, 58, better known as "Uncle Kimo" by club members.
There are a number of misconceptions about the sport like having to be physically fit, or having the best paddle and the best boat on the water in order to be successful. But the most common misconception is to be a great swimmer.
To be a successful paddler, a person must be able to work with a team because in a boat there are six paddlers who work in perfect unison in order to efficiently move the boat. It requires a lot of focus and motivation because it is a high endurance sport that demands a lot of commitment.
Mark Torres, 49, has been with Kamehameha for five years and has yet to learn how to swim. It does not stop him from coming back to paddle every season. He has paddled for the Recreational season, Iron-man season (which are long races that tests the endurance), Regatta season (which are bursts of shorter races) and the Long-distance season (which have the longest courses).
"I'm still scared to go out to the open ocean, but I do it anyway because I love paddling," Torres said.
Kamehameha has always been a family oriented club. Sam Ahai, president and owner of the club, is usually referred to as "Uncle Sam" or "Coach Sam." Every year his goal is to instill the feeling of "ohana" within the club.
"The values that Uncle Sam has for the club are good values," Torres said. "It keeps everybody there, which is something you don't see in a lot of clubs. It's a good bunch of people – men, women, and children – and we all work together. It is more like a family, especially at Kamehameha Canoe Club. This is my family, my paddling family."
Most of the people who make the Kamehameha Canoe Club range from 15 years old to 35 years old. The older members are addressed as "aunties" and "uncles." They are very involved in the sport. It is from them that the less experienced members learn of the Hawaiian culture and how it ties in to the sport of paddling.
After rec season, training for the Iron-man season will begin at the start of April.
About the Contributor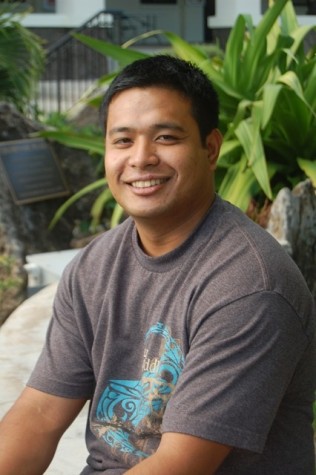 Patrick Reeder, Staff Writer
Mr. Patrick J. Reeder was raised in Hawaii Kai. After completing high school and saving up enough, he moved to Santa Barbara, CA. to party it up. Eventually,...