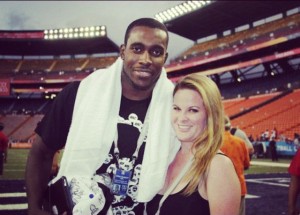 Chaminade University kicked off the spring semester by awarding Pro Bowl tickets to dorm residents for the first time. As a raffle prize 15 were randomly picked for the chance to be present at Aloha Stadium for the NFL's all-star game. The idea was mentioned shortly after winter break. RHA president, Amber Alvarez, in coordination with the executive board members, helped plan the trip.
"We were very excited to be able to take our residents to the Pro Bowl," Alvarez said.
For some of the students who were given the opportunity, attending the Pro Bowl was the first professional football game they have been to. Alvarez had never previously attended a Pro Bowl event, though she would normally follow it on TV. Being at the Pro Bowl was a bonding experience for all of them.
"The thing I gained the most was a new found friendship with the residents," Alvarez said.
Mosana Evagelia, a junior, was excited to discover that by chance she was one of the 15 names picked. Evagelia had never been to a professional football game before the Pro Bowl.
"I am pretty excited because I will be with friends," Evagelia said a few days before the big game.
The winning team, AFC, was the team she was rooting for.
Unfortunately, none of the 15 Chaminade residents got the chance to meet the players or get autographs. For Alison Blasing, who is finishing up her last term as a senior, it was a different story. She did not participate in the Residential Life drawing. Instead, Blasing, who works as an intern for the University of Hawaii at Manoa athletics department, had the opportunity to work on the sidelines as a photographer for the NFC.
During Pro Bowl week, Blasing was invited to follow the players and attend the press conferences. For her, it was a lifetime goal that she was lucky enough to have experienced early in her life. She feels honored and blessed because she has always wanted to work in sports.
"It was good to meet people that strictly work for the NFL," Blasing said.
It was an opportunity and a firm foot in the door as she continues to pursue a career in sports. Blasing met many of the players and got to keep all the pictures she took from the sidelines.
This is a major event that has been taking place at the Honolulu Aloha Stadium for 29 seasons. The NFL, which oversees the Pro Bowl, and the city of Honolulu have yet to come to an agreement on the game's future in Hawaii. This year's trip to the all-star game was well worth it. Hopefully Chaminade students will be presented with the same opportunity next year.