On Saturday, Chaminade held its annual Chaminade Preview Day open house where future students can see what it would be like to be a Silversword.
Students thinking of coming to Chaminade can learn more about the admissions process, financial aid, majors and programs offered, on-campus and off-campus housing, student life, and interact with booths from different majors and programs.
"I love interacting with people, especially prospective new students because they bring new energy to our campus. As well as we are here to help them to pursue their career and their dreams, of course, and for us as a forensic scientists, also to help others," said Carlos Gutiérrez, a professor at Chaminade teaching Forensic Science who was running its interactive booth. "I think it's a great idea when we open our house to the community, and people can look and know what is happening on campus, show the campus around, and open our laboratories to the community. I think it's great."
A total of 325 attendees (95 students and 230 guests) visited Chaminade on Saturday.
Chaminade Preview Day was mainly located on Second Road on campus. Future Silverswords checked in at the check-in tent, where they got a bag with a fan and a trifold of information on what was going on that day.
Student ambassadors were giving campus tours and tours of the residence halls throughout Preview Day. Students were given the opportunity to see the whole campus and get questions answered by current Chaminade students.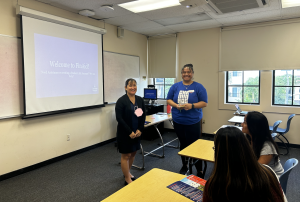 Students and parents were able to go to Financial Aid 101 in Eiben Hall, where they could learn about the FAFSA (Free Application for Federal Student Aid) process and how to apply. Right next door to the Financial Aid class was the Application room. Students were able to get help in applying for Chaminade.
In Henry Hall, programs and majors held interactive booths to give students a sneak peek of what they do in class.
The Science Labs held an interactive booth in their newly renovated science laboratories on the first floor of Henry Hall.  Students were given an opportunity to see the type of equipment we have in our labs and got to take a look at various organisms with microscopes.
Forensic Sciences held a mock crime scene investigation in the Henry Hall Courtyard. The mock crime scene was laid out with numbering devices, a manikin, and yellow barricade tape. Students were able to figure out what crime took place and what to look for.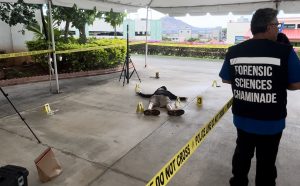 Nursing had its interactive booth in its nursing simulation facility in Henry Hall 114. Students are able to check out the nursing program's fully equipped facilities with 16 patient beds, high-fidelity human simulators, three clinical action spaces, a control room, and two debriefing rooms.
"It's so much fun to be able to really show off what we have here and what we're able to bring to the students of our community, so I think we have a lot of great resources, a lot of great faculty and just this kind of community-family setting that I think really makes learning something special," commented Kimberly Gibbs, Chaminade's nursing simulation coordinator. "It's really nice to be able to interact with prospective students one-on-one and to really answer their questions and talk to them and show them what we have to offer them and show them our small classes and our wonderful equipment."
While professors were excited to be able to show prospective students everything Chaminade can offer and a sneak peek of their programs, staff were also happy about Preview Day.
"Today, I feel like Preview Day has been very great and successful. Just seeing a lot of families and students who are interested in coming to Chaminade," said Jowenalyn Cadiz, a Chaminade alumna currently working as Chaminade's graduate online administrator counselor. "Since I was a student myself when I applied, there were never events like this, and it's just great that we're able to provide these kinds of events for families and prospective students."