Ka Ipu Kukui Me Ka 'Ie 'Ie, also known as the Hawaiian Club, kicked off Chaminade University's 2023 Pacific Island Review on Friday with three performances. Although the annual PIR is a time of celebration with upbeat music, the Hawaiian Club brought the calm before the storm and dedicated its performances to the Maui fire tragedy that occurred in August with heartfelt dances.
"This performance is a testament to the resilience, strength, and unity of the Hawaiian people," said Noelani Tugaoen, the club secretary, during the introduction of the Hawaiian Club.
The Maui fires took the lives of 99 people on Aug. 8, with five people still on the missing person list, according to the Honolulu Star-Advertiser. The fire raged through Lāhainā, burning through 10 square miles.
"Through our dance, we hope not only to entertain but also educate and inspire," Tugaoen said as she started closing the introduction. "The story of the Maui fires is a lesson in the strength of community, the preservation of culture, and the power of resilience. It is a reminder that even in the darkest times, the light of hope and unity can guide us forward."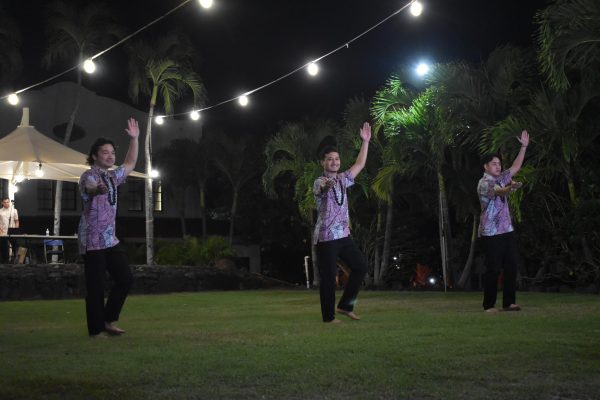 The men danced to the first song, "Aloha 'Ia No 'O Maui" by Kaiholu. Compared to last year, with only one male in the Hawaiian Club, there are now three: Cade Garcia, John Barayuga, and Ka'imipono Abella. The song they performed is about the beauty of Maui, from the waves at Kahului to the beautiful mountain of Haleakalā.
"It wasn't what I was expecting," said Cade Garcia, a third-year from Mililani. "I was very nervous [and had] stage fright, but I had a lot of fun, and I loved doing it."
Next, 20 women of the club performed to "Maunaleo" by Keali'i Reichel. This song is about the mountain on the west of Maui named Maunaleo, a mountain located on the west side of Maui. The song expresses the rich culture and the endurance that Maunaleo has persevered. This song represents the perseverance that Maui is going through right now in recovering from the fires. 
"I felt great tonight, and I feel like tearing up because I put a lot of work into this performance," said Ku'ulei Koko, one of the members of the Hawaiian Club, who is a third-year majoring in Biology. "It was a great tribute to Maui, especially after everything they've been through. For me, the Hawaiian Club is like a family and a space for me to practice my culture."
The whole club did its final performance to "Hanohano 'O Maui" by Keali'i Reichel. The club's last song talks about the celebration of the beauty of Maui and what Maui has to offer. Compared to the other clubs that performed with more upbeat songs, the Hawaiian Club held a more meaningful performance.
"We loved the Pacific Island Review," said Olivia Poblacion, who attended PIR with her two kids. "I wasn't sure if the kids would last for the whole thing, but they didn't want to leave. Such a beautiful variety of cultures and performances, and the positive energy from the students was awesome. Mahalo for sharing this celebration with us."