On Wednesday night, Hogan hosted its annual kickoff event at the Sullivan Family Library to showcase the program as well as the businesses created by Chaminade students.
"It's a lot of fun," said Carol An Nacario, a fourth-year student  in the Hogan program and also a part of the Re-Thread business team. "I think depending on the team you have you can get a lot out of it, both learning wise and enjoyment wise." 
Hogan is an entrepreneurial leadership program here at Chaminade University. According to the Chaminade website, the mission for the program is to promote the entrepreneurial spirit through the creation and operation of education, civic-minded and humanitarian programs designed to encourage a more productive and contributory society. Hogan conducts business competitions for students to participate in as well, which teaches them valuable life skills.
The kickoff started at 5 p.m., with beverages and various appetizers being served to the guests. The crowd consisted of various faculty and staff, guests, and students who are involved with the program dressed in their signature polo shirts. To start, Kumu Kahoaliʻi K. Keahi-Wood conducted an oli. After that, President Lynn Babington welcomed the attendees and gave a brief summary of what the event was for.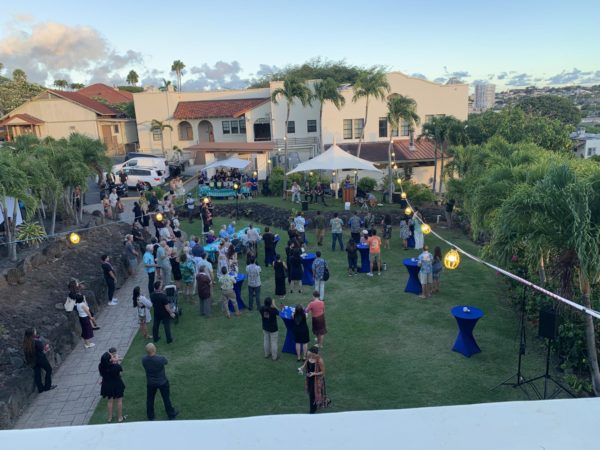 Roy Panzarella, the director of Hogan, gave a few remarks about the program and how he has seen it grow and progress over the years he has been there. When asked about how his experience has been in his three years of being director, he summed it up as being one of the best jobs he has had in his life.
"In this particular position, I'm giving back," said Panzarella, "I take all my leadership and business experience and put it together to give back to this community."
Panzarella also noted that his main motivation comes from the passion and excitement that he sees the students get from the Hogan program. He said that it is not like a traditional course, where it consists of just sitting in the class talking about different subjects. Hogan is hands-on and allows students to express themselves. 
"When I see their eyes light up when we talk about something that relates to giving back to the community, that's what fires me up," said Panzarella. 
Following Panzarella's speech were remarks given by other Hogan staff members, including a member of the actual Hogan family. After all the speakers were done, Panzarella turned it over to Carol An Nacario and Liz Devine (students in the Hogan program) for the raffle. Winners of the raffle were awarded with various prizes and goodies. 
After the formal part of the event concluded, attendees were given the opportunity to enjoy a meal and mingle amongst themselves. Guests enjoyed the beverage station and live music that was playing throughout the night.
Student businesses from the competition were also in attendance, which gave guests a chance to get an up close look at what was being sold by Re-Thread (turning old clothes into pouches), Beaches Its Paper (uses scrap paper to create journals), and Pasifika Presence (uplifts voices of the Pacific through various art forms).